Congresswomen AOC and Eleanor Holmes Norton will be introducing legislation this week that would require federal law enforcement officials to clearly identify themselves, according to a draft bill provided exclusively to The Nation.
BREAKING: @AOC and @EleanorNorton to introduce bill that would require federal law enforcement officers to display identification when on duty, staffers tell me https://t.co/q4W1g0k5P5

— Ken Klippenstein (@kenklippenstein) July 20, 2020
The bill would also mandate a new form of oversight for the Justice Department, requiring its inspector general to conduct routine audits to ensure compliance with the legislation and the results of these audits would then be reported to the Committees on the Judiciary of the House of Representatives and of the Senate.
According to the report, it would require on-duty federal agents to display not just the name of their agency but also the individual agent's last name and identification number.
The recent federal action in Portland would appear to be the catalyst for the introduction of the legislation, but staffers said that the bill has been in the works for months.
From The Nation:
Last week, the Department of Homeland Security (DHS) drew scrutiny after federal agents in military fatigues used unmarked vehicles to arrest protesters in Portland. Among these federal agents were members of elite Border Patrol Tactical Units (BORTAC), Custom and Border Protection's SWAT team equivalent. Despite the mayor of Portland's demand that federal agents leave the city, DHS Acting Secretary Chad Wolf refused.
"I offered DHS support to help them locally address the situation that's going on in Portland, and their only response was: please pack up and go home," he said to Fox News. "That's just not going to happen on my watch."
Internal CBP documents obtained by The Nation revealed that these federal agents would be operating indefinitely and in undisclosed locations, with drones "on standby to assist as needed." The documents describe the DHS's creation of the Protecting American Communities Task Force in response to President Trump's executive order "Protecting American Monuments, Memorials, and Statues and Combating Recent Criminal Activity."
Provided a copy of the draft legislation, Irvin McCullough, deputy director of legislation at the Government Accountability Project, said, "Lots of lawyers are asking the same thing: Where's the transparency? Unidentified internal security forces are apprehending American citizens, and accounts allege these apprehension processes are more similar to overseas renditions than traditional arrests. Citizens deserve to know who's arresting them—or at least what entity—to report any abuses they suffer or witness."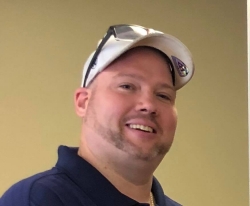 Latest posts by David Caron
(see all)