Jay Leno received some more bad news lately after a new injury that he suffered as CNBC announced the cancellation of his "Jay Leno's Garage" after seven seasons.
Leno told the Las Vegas Review-Journal about his injury which occurred when he was on a motorcycle on Jan. 17.
The accident came when Leno was testing a 1940 Indian motorcycle and noticed the scent of leaking gas, which was ironically similar to the accident that happened previously when he was badly burned by a gas leak to an antique car he was working on in his garage.
"So I turned down a side street and cut through a parking lot, and unbeknownst to me, some guy had a wire strung across the parking lot but with no flag hanging from it. So, you know, I didn't see it until it was too late. It just clothesline me and, boom, knocked me off the bike," Leno explained.
Leno added, "The bike kept going, and you know how that works out" and that he suffered a broken collar bone, two broken ribs, and two cracked kneecaps.
As for Leno's show, CNBC president KC Sullivan has chosen to focus on business-oriented reality shows in the primetime lineup, including "Shark Tank" and "Undercover Boss."
Leno's show spanned for seven seasons on the network and included multiple appearances by Joe Biden, including one with his now infamous Corvette.
Shepard Smith's primetime show "The News With Shepard Smith" also got the axe from the lineup at the end of last year.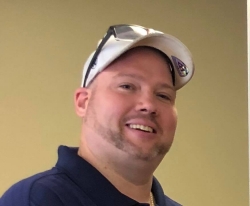 Latest posts by David Caron
(see all)