Washington D.C. Mayor Muriel Bowser spoke at the first night of the Democratic National Convention but since then, things have been spiraling out of control in her city with Senator Rand Paul being surrounded by protesters after President Trump's speech at the Republican National Convention.
Last week, she also had to condemn protesters who were caught on video harassing diners. "What I saw in those videos was highly inappropriate," she said at a press conference on Wednesday.
"It was likely against the law if they were on private property. But more importantly I don't think it had anything to do with demands for social justice," she added.
Her pleas have fallen on deaf ears as last night, Black Lives Matter protesters harassed a number of patrons in another viral video, demanding that they leave and come join their protests.
Protesters are arguing with diners and mpd cops have showed up #dcprotest #dcprotests #blmprotest #ACAB #blm #Blacklivesmatter #JacobBlake #KenoshaProtests pic.twitter.com/sEc7XtLl0q

— RawsMedia (@rawsmedia) August 30, 2020
You can hear in the video, one man says, "this ain't enough." The diner says that she is in "solidarity." The protester continues, "it's not about yesterday, it's about today.
In the background you can see a protester yelling at another patron with a bullhorn. Metropolitian Police show up on the scene and get in between the bullhorn wielding woman and the patron.
Ultimately, last night descended into chaos as the police needed rubber bullets, tear gas, and flash bangs to clear the streets. The recently renamed Black Lives Matter was a focal point of the unrest.
Crazy right now Chaos #dcprotest #dcprotests #blmprotest #ACAB #blm #Blacklivesmatter #JacobBlake #KenoshaProtests #dmv #washingtondcprotest pic.twitter.com/JEcogTm5dH

— RawsMedia (@rawsmedia) August 30, 2020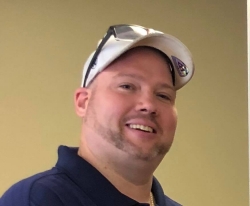 Latest posts by David Caron
(see all)