At a press conference today representing the House Freedom Caucus, U.S. House Rep Bob Good (R-VA) lashed out at U.S. House Reps Adam Kinzinger (R-IL) and Liz Cheney (R-WY), joining his fellow Freedom Caucus colleague U.S. House Rep Andy Biggs (R-AZ) in calling for the two embattled Republicans to be kicked out of the party.
Good began in a clip that he tweeted, "When it comes to January 6, we should believe people, what they do and what they say. When their words and actions tell us that they are not Republicans, we should believe them."
"It's a fact that Kinzinger and Cheney have criticized Republicans and Republican leadership far more than they have criticized the Speaker and the Democrats," Good lamented.
Good explained, "Ever since we got here as Freshmen six months ago, we have battled against the remarks and the statements and the position of these two so-called Republicans."
"Some have called them 'Pelosi Republicans,' they might be Pelosi's congress people, but I can assure you, they are not Republicans. They have abdicated and violated their responsibility as loyal Republicans," Good continued.
Good then wondered, "If we're gonna let them come to our conference meetings, why not just invite Nancy Pelosi to our conference meetings?"
"So if you're going to accept committee assignments from the other party, that means you are no longer a member of our party," Good concluded in the clip.
Continuing to invite Cheney and Kinzinger to House Republican Conference meetings is insane. At this rate, why don't we just skip the middleman and invite Nancy Pelosi herself?! pic.twitter.com/2xt3UZ18ov

— Congressman Bob Good (@RepBobGood) July 29, 2021
Previously, we reported:
Ahead of the first hearing of the Jan. 6 Select Committee, U.S. House Rep Andy Biggs (R-AZ) drew the line regarding the only two Republicans sitting on the committee, who were selected by House Speaker Nancy Pelosi (D-CA).
In a tweet, Biggs declared that U.S. House Reps. Liz Cheney (R-WY) and Adam Kinzinger (R-IL) "have effectively removed themselves from the Republican Conference."
Biggs added that he believes that based on that fact, "We should help them out the door by formalizing their departure."
A primary opponent to Kinzinger, Republican Jack Lombardi shared a meme in response to Biggs which accused his opponent of being, "A lapdog for Pelosi."
Progressives descended on Biggs' tweet to push back. One Twitter user "Mike" told Biggs, "those two are Patriots. Apparently the only 2 in the Republican House. When you testify, remember that as a witness it is illegal to lie. That's going to be very hard for you."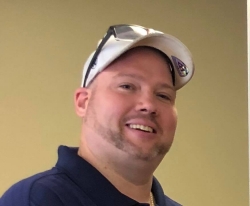 Latest posts by David Caron
(see all)