After sharing footage of being turned away and accused "trespassing" and "turned away," U.S. House Rep Marjorie Taylor Greene (R-GA) held a press conference with other representatives.
At the press conference, she called the treatment of her and her colleagues an "Outrage" and that "Everyone should ask questions."
Greene explained:
"We went to this prison today as members of Congress to give oversight on a federal prison because we suspect there is a two-tiered justice system in the United States for Trump supporters that are charged for January 6 and letting catch-and-release, it's basically catch-and-release for Antifa and BLM rioters that have rioted and destroyed cities and hurt business and looted and hurt police officers and federal monuments and federal buildings and police precincts.
You know we suspected that but it was confirmed today and it's an outrage. I'm not just concerned about the January 6 defendants, I'm concerned for all of the people in that prison because we showed up, walked in, and we were told that we were trespassing. Members of Congress, trespassing.
Just like Congressman Gohmert said, we vote to fund these facilities. we also visit detention centers. I just went to one in California a few weeks ago and went in a detention center where illegals are held by ICE and U.S. Marshalls and they are treated beautifully, I'm not kidding.
I am absolutely amazed at how generous our country is and how well we treat people that break the law entering our country and also break law and commit crimes here in America. So they are treated so well in these detention facilities where we hold illegals, but I don't know what is happening in this prison here in Washington D.C.
Let me tell you, everyone should ask questions about that prison. They had an arrogance about them to tell us, members of Congress, that we are trespassing and then to lock us out when we went outside to talk to the person that we were told was the supervisor."
Greene later asked:
"What is happening in our country? This shouldn't be this way. We aren't there defending, getting involved in any kind of one person's charges, we're just there to ask questions but yet we were turned away and told we were trespassing. No, this is completely wrong."
Rep. @mtgreenee On Being Turned Away & Called "Trespassers" For Trying To Visit The DC Jail Where January 6th Political Prisoners Are Being Held

"This is an outrage, everyone should be concerned."

"Please, please pay attention to this and do not let this go." pic.twitter.com/T0ta9sQ99b

— The Columbia Bugle 🇺🇸 (@ColumbiaBugle) July 29, 2021
Greene shared video from RSBN of her encounter with the security at the prison in a tweet and wondered, "What are they hiding?? After our visit, I'm even more concerned about the treatment of the prisoners inside."
Here's the moment we were accused of trespassing while conducting Congressional oversight at the Deplorable Jail.

What are they hiding??

After our visit, I'm even more concerned about the treatment of the prisoners inside. pic.twitter.com/N6Ljmbl93E

— Marjorie Taylor Greene 🇺🇸 (@mtgreenee) July 29, 2021
Previously, we reported on Greene's southern border visit:
U.S. House Rep Marjorie Taylor Greene (R-GA) called again for President Joe Biden to be impeached today and added Vice President Kamala Harris to that call as well after a visit today to the southern border in California.
This morning, Greene tweeted that she was "visiting our southern border to see the national security disaster Joe Biden and Kamala Harris have created for our country."
Greene also shared a chart, which she described as "a clear look at Trump's strong #AmericaFirst border policies ruined by Biden's #AmericaLast open border policies. #ImpeachBiden."
The chart showed that there was a 291.4% increase in encounters at the southern border with 229,225 in the FY20 versus 897,213 FY21.
The months in FY21 did include months when former President Donald Trump was still in office but the bulk of the increase has occurred since Biden came in office.
Greene later shared a video of her walking with border agents in a tweet and exclaimed, "Thank you to the U.S. Customs and Border Protection for a tour of the San Ysidro Port of Entry today!"
"Almost one in three people entering the United States pass here every day. 1,000 border agents process approximately 45,000 cars daily,: Greene explained and added, Drugs and human trafficking a huge issue!"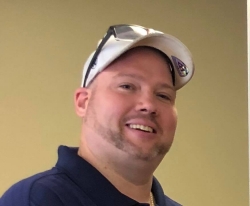 Latest posts by David Caron
(see all)