Recently, Boise State University lost hundreds of thousands in state funding because they refused to cut what Conservatives in the state legislature thought was radical left-wing propaganda. Now, over 50 of those courses are being chopped anyway because allegedly, a White student was made to feel uncomfortable and potentially was demeaned and degraded during a Zoom call about so-called "White privilege".
The apparently now-deleted tweet with poor grammar from what seems to be a left-leaning professor below details what happened in part:
"a student in a university foundations class taped a zoom discussion on white privilege, in which apparently a white student was made to feel uncomfortable, and sent video to ID state legislature, who are "enraged." BSU suspended all UF 200 classes mid semester as a result."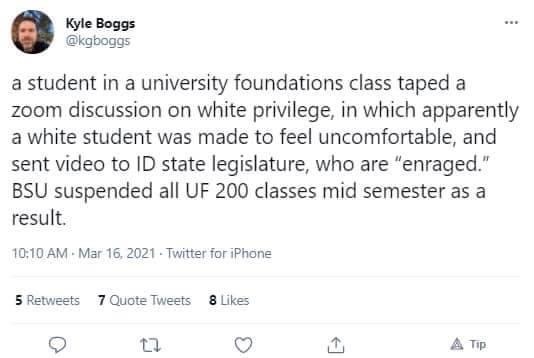 The cancelation roughly affects 1,300 students in 52 sections of UF 200: Foundations of Ethics and Diversity, according to the college. Left-leaning news site Idaho Statesmen, who clearly buried the lede on this outrageous story, was given a statement from the school:
"We have been made aware of a series of concerns, culminating in allegations that a student or students have been humiliated and degraded in class on our campus for their beliefs and values, effective immediately, we must suspend UF 200."
It was also reported that:
The course is required for graduation and designed to engage students in "discussions of ethics and diversity in contemporary societal issues," according to Boise State's website. About 35 faculty members were teaching UF 200 courses during the spring semester, which can examine ethics and diversity issues in topics including the American dream, the refugee crisis, hospitality, hip hop, technology, education, food in the U.S. and literature.
Boise State did not clarify which of the 52 spring semester UF 200 classes spurred the complaint, and whether complaints came from one or multiple students.
The University President named Marlene Tromp, who we previously reported was outraged about the budget cuts (which amounted to approximately her yearly salary) responded in a vague manner on this issue:
"Boise State University is committed to ensuring that each and every one of our students is treated with respect and that all have the right to hold and to voice their own personal and political beliefs," Tromp and Interim Provost Tony Roark wrote in the email. "Our campus is richer and learning is made more effective because people of all backgrounds and beliefs are invited to meet, exchange ideas and learn together."
Tromp also said it was "never acceptable" for a student to feel degraded over their values or beliefs. The school appears to be dodging the fact that it was a White person who was allegedly discriminated against because this does not fit the left-leaning school's narrative or the course that was being taught in our assessment.
Tromp is clearly worried about more potential budget cuts from the state as well, with the conservative Idaho state legislature likely to take another look. Although less than half a million dollars was cut already, some want up to $18 million dollars cut from the school for this curriculum, which clearly has Tromp on edge.
We have reached out to various groups and individuals to find more info on who was discriminated against and to try to get more details. Other local activists and news watchdogs are on the prowl to get to the bottom of this situation as well.
The right-leaning organization "Idaho Freedom Foundation" commented further on the states continued funding of Boise State University after this latest fiasco:
"Today, the Idaho Senate will vote on Senate Bill 1179, the higher education budget. This massive spending plan won't put an end to the social justice nonsense on Idaho's college campuses. Will Idaho senators vote today to continue feeding this monster?
Read our analysis of Senate Bill 1179 here: https://IDFree.us/1179"
We previously reported about the budget cuts made so far:
Idaho Legislative Committee has cut $409,000 from Boise State University. This comes after hardline Republicans pushed for an $18 Million dollar cut from higher education, specifically $17 Million from BSU. Rep. Priscilla Giddings (R), proposed the $18 Million dollar cut.
State Senator Carl Crabtree (R) who proposed the $409,000 cut said, "Social justice involvement has got support for BSU in the ditch with the legislature and with constituents. We've tried for over a year to have our voices heard by the university, and we have been largely unsuccessful, We are left with no other option."
Many Conservatives say the cut didn't go far enough. Rep. Ron Nate (R) called the number disappointing, he had voiced support for Giddings's proposal of the $18 Million dollar cuts to higher education. Nate also said, $409,000 "is nowhere near close to sending the message."
Boise State President Marlene Tromp said the decision will have "a real impact" on employees. Tromp took over BSU in 2019. According to Idaho Freedom Foundation, Tromp's annual salary is close to the amount being cut from the BSU budget. IFF reports her salary is $425,000 annually, plus a $60,000 Housing allowance and a 9,200 car allowance.
Rep. Barbara Dee Ehardt (R) wrote a letter to Tromp urging her to change the course BSU was set upon by Interim President Martin Schimpf. Twenty-seven legislators also signed Ehardt's letter. It appears that Tromp took no action in regards to the letter sent out by the legislators.
We will update this story if we are able to procure any more details and continue to report about the ongoing efforts to defund left-wing ideology from this state funded school, that appears to actually just be anti-White in our view.
Latest posts by Ian MacDonald
(see all)