Since Britney Spears was released from her father's conservatorship, she has been able to post and do what she wants. Some may think some of her recent scantily clad photos (not shown here) are a bit controversial.
Others may think she's just expressing herself. Spears was able to try to have a child with her new husband, as she was not able to try before. Unfortunately, that ended with a miscarriage. She still has been keeping her spirits up, however, and it's unclear if she will try again.
Some may wonder what Spears thinks about politics and Hollywood, as Rose McGowan spoke out on her behalf previously. McGowan has been on Fox News' Tucker Carlson to advocate against sexual misconduct in Hollywood. Read more on that:
In the meantime, Spears has clarified at least one thing for her followers, that she is not interested in being part of Hollywood culture and/or "hanging out" with them.
UPDATE 7:15 ET: Britney Spears has apparently ticked off some folks in Hollywood, as the post has been removed as you can see below in the "broken link" from Instagram. However, Daily Mail had a screenshot of the post to Instagram: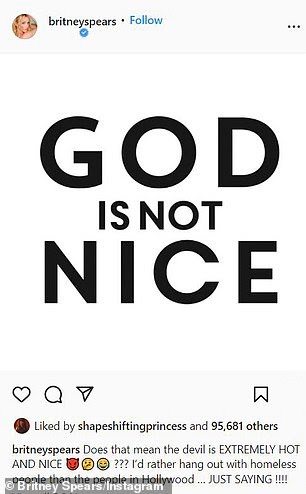 See recent post:
"Does that mean the devil is EXTREMELY HOT AND NICE ??? I'd rather hang out with homeless people than the people in Hollywood … JUST SAYING !!!!"
She recently posted these pictures and thoughts as well to Instagram:
Sometimes it's hard to put people in a box. Many famous Americans don't want to be labeled and just want to live happy lives. Unfortunately for them, if you're not a staunch leftist you get automatically called right-wing.
In our view, it's kind of like the left's "Critical Race Theory" where they say that if you are not racist, that's not good enough. The left needs you to be vehemently against things to be in their good graces, rather than simply, doing your own thing.
Latest posts by Ian MacDonald
(see all)