Former President Trump had originally planned to rally for Arizona Trump candidates this Saturday, for an upcoming primary. It appears as though that rally is being moved to next Friday now, as a way to honor Trump's ex-wife Ivana, Especially since she was the mother to his three oldest children. Trump posted to his social media site Truth Social:
"Out of love and respect for Ivana, our big Arizona Rally will be postponed until next Friday."

Upon the initial news, he had this to say about Ivana:
"I am very saddened to inform all of those that loved her, of which there are many, that Ivana Trump has passed away at her home in New York City. She was a wonderful, beautiful, and amazing woman, who led a great and inspirational life. Her pride and joy were her three children, Donald Jr., Ivanka, and Eric. She was so proud of them, as we were all so proud of her. Rest In Peace, Ivana!"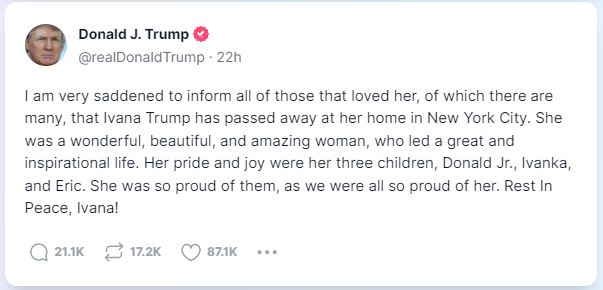 Donald Trump's children surely are heartbroken. Ivanka is especially saddened by the loss as we reported about earlier today:
It is likely that while some may be inconvenienced by this rally schedule change if we had to guess, most Trump supporters would be very understanding of this difficult situation. It's hard to say if this helps or hurts the pro-Trump Arizona candidates, but we will see how the upcoming primaries go, with Kari Lake, Wendy Rogers, Mark Finchem, and others hoping for big wins. August 2nd will be the day of the primary, so next Friday's rally will still have the potential to persuade some voters, especially those who prefer to vote on the day of the election.
Arizona is a swing state and many Republican candidates there have pushed for election integrity, which has garnered big Trump support. Whoever wins or loses in this primary will give Trump a lot of information on how people feel about him in this battleground state.
Latest posts by Ian MacDonald
(see all)