Women's basketball player Brittney Griner's lawyer tried a new tactic in court today, providing a doctor's note that advised her to use medical cannabis to treat pain.
"The attending physician gave Brittney recommendations for the use of medical cannabis. The permission was issued on behalf of the Arizona Department of Health," Griner's lawyer, Maria Blagovolina insisted.
Additionally, the defense submitted tests Griner underwent as part of an anti-doping check, which didn't detect any prohibited substances in her system.
U.S. Embassy charge d'affaires Elizabeth Rood spoke outside the courthouse in the Moscow suburb of Khimki, where the airport is located.
"In the hearings yesterday and today what became very clear is the tremendous amount of respect and admiration both in the United States and here in Russia where Miss Griner has been playing basketball for seven years, not only for her professional achievements but for her character and integrity," Rood explained.
Griner's next hearing in the Russian court is scheduled for July 26, so there will likely be little news regarding her case until then unless calls for her release grow louder.
During yesterday's hearing, Griner blamed hasty packing for possession of vape canisters with cannabis oil during a court appearance today in Russia.
Griner acknowledged in court that she possessed the canisters, but said she had no criminal intent to have the canisters in her luggage.
Conservative host Tomi Lahren weighed in on the situation today in a "Final Thoughts" video that she tweeted and said, "IF Brittney Griner did break a law in Russia, I don't have a whole lotta sympathy for her."
"I also don't understand why there should be a big emphasis on getting her back to the USA when she clearly finds this country so awful…maybe this isn't the place?" Lahren wondered.
"If you're wondering, yeah, that's illegal."
"Since her detainment in February, her teammates, coaches, family members and friends have been petitioning Joe Biden to bring her home and for good reason."
"Russia is awful and oppressive. Its legal system is questionable at best, and that's being kind. No one is sticking up for Russia here, trust me."
"Last week, Griner even wrote a letter to Joe Biden begging him to do something, even trying to butter up old Joe by saying she cast her first vote for him in 2020."
"So, yeah, add Griner to the list of people who owe Trump supporters some gas and grocery money, but anyway, her pleas have largely fallen on deaf ears."
"Luckily, luckily, our favorite virtue signaling self-anointed king of basketball, LeBron James, is weighing in like the true international diplomat he is."
"On the latest episode of The Shop Uninterrupted. KING Baby Bron questions not only whether the USA has Brittney Griner's back, but also ponders if he'd even want to come home if he were in her shoes."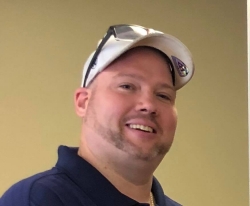 Latest posts by David Caron
(see all)