U.S. House Rep Burgess Owens (R-UT) was fired up over a July 4 Facebook post made by Utah's Black Lives Matter chapter where they declared the American flag was "a symbol of hatred," that "the person flying it is a racist," and "we question your intelligence. We know to avoid you."
In a tweet made from his Congressional account, Owens shared an article from the Daily Caller on the situation and responded, "According to BLM Utah, flying the American flag is now racist and hateful. What an insult to those who have fought, served, and died for our freedoms."
According to BLM Utah, flying the American flag is now racist and hateful. What an insult to those who have fought, served, and died for our freedoms. https://t.co/zrjaopvY4R

— Rep. Burgess Owens (@RepBurgessOwens) July 8, 2021
In a subsequent tweet made from his campaign account, Owens shared a New York Post article on the situation and added, "My father, a proud black man, served with that flag on his right shoulder as this country saved the world from speaking German. All races have died defending what that flag represents: Freedom, Opportunity, & a home for all races, religions & backgrounds."
My father, a proud black man, served with that flag on his right shoulder as this country saved the world from speaking German. All races have died defending what that flag represents: Freedom, Opportunity, & a home for all races, religions & backgrounds.https://t.co/xlJkHf8w4f

— Burgess Owens (@BurgessOwens) July 8, 2021
According to Fox News, Lex Scott, the leader and founder of the group confirmed yesterday that the group made the post to demonstrate how groups can "co-opt" the flag for their own purposes without facing criticism.
Scott suggested, "Ever since we put up the post, our page has been flooded with hatred from people who fly the flag. And we want to thank those people for proving our point."
"When you allow a hate group to fly that flag in the name of hatred, and you say nothing, and you do nothing, you send a message to us that you agree with their messaging. You agree with that hate, and you condone it," Scott explained.
From the Daily Caller:
In another lengthy Facebook post Scott claimed she authored, Black Lives Matter Utah said, "If you see that every person that hates you is carrying an American flag how would you feel about that flag? If every message of hate that you receive comes from a person flying that flag, how would you feel when you see that flag."
The New York Times' Mara Gay recently made similar remarks about the American flag, saying it was "disturbing" to see "dozens of American flags" on display in Long Island, New York.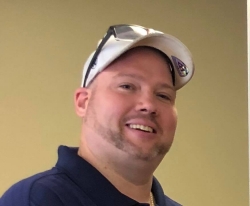 Latest posts by David Caron
(see all)