During her press briefing yesterday, White House press secretary Jen Psaki stated that the Biden administration would be open to states re-imposing restrictive measures due to the Delta variant of the virus spreading.
U.S. House Rep Lauren Boebert (R-CO) pushed back on the suggestion today, telling the White House that she would not accept any more "lockdowns."
Boebert declared in a tweet, "The White House said yesterday that they are open to more lockdowns. I am NOT open to any more lockdowns… not now, not ever. Who's with me?"
The White House said yesterday that they are open to more lockdowns.

I am NOT open to any more lockdowns… not now, not ever.

Who's with me?

— Lauren Boebert (@laurenboebert) July 8, 2021
Psaki was asked by a reporter, "If the number of cases continues to trend upward, are there any circumstances under which the White House would reimpose some of those restrictions as cases tick up? Or would that be up to the states?"
"States are going to have to make evaluations and local communities are going to have to make evaluations about what's in their interest, and, as you know, there are much higher rates of vaccinations in some parts of the country over others, and we certainly support their decisions to implement any measures that they think will help their community [be] safe," Psaki responded.
From BizPacReview:
Psaki emphasized that the Biden administration's vaccination program was so successful that lockdowns might not be necessary.
"But I would remind you, we're at a point where we're almost at 70 percent vaccination rate for — well, for 20 — adults 27 and older, but almost for adults 18 and older. So, certainly, we don't see we're on track to implementing new, additional national measures," she commented.
Dr. Fauci is now recommending that vaccinated individuals wear masks if they are in an area with a low vaccination rate. "Nothing is 100%," he told NBC's "Meet the Press" on Sunday, referring to his belief that masks should still be worn under certain circumstances.
Los Angeles has already begun making moves in the direction of additional lockdowns. "With increase circulation of the highly transmissible Delta variant, the Los Angeles County Department of Public Health… strongly recommends everyone, regardless of vaccination status, wear masks indoors in public places as a precautionary measure," Los Angeles County declared in a released statement last week according to the New York Times.
Barbara Ferrer, who is the county's director of public health, admitted that vaccines are "very effective" in providing protection against the Delta variant. "Mask wearing remains an effective tool for reducing transmission, especially indoors where the virus may be easily spread through inhalation of aerosols emitted by an infected person," she also noted.
But there are those that think reimposing such restrictions is the wrong way to go. Johns Hopkins School of Medicine professor Dr. Marty Makary told Fox News that Los Angeles is sending "the wrong message" in relation to increasing vaccination levels.
"While 40-60% more contagious," Makary remarked, "the COVID in all its variant forms is circulating at very low levels in the population. The only people who should be concerned are those who do not have immunity either through vaccination or natural immunity."
"At this point, everyone at-risk has had the opportunity to get vaccinated," he continued. "Those who are not immune are choosing to do so at their own personal risk."
Psaki's comments follow new data released by Israel's health minister that reportedly shows the Pfizer vaccination is less effective against the Delta variant. Moderna is said to be more preventative.
Other nations are already reimposing lockdowns due to the Delta variant. Both Vietnam and Australia have imposed new restrictions.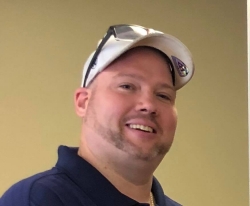 Latest posts by David Caron
(see all)