On Friday, Fox News' Chris Wallace, who has drawn the ire of conservatives plenty in the past, made a declaration following an intense back-and-forth between his colleague, Peter Doocy, and Psaki regarding President Joe Biden's "drive through" visit to the U.S.-Mexico border.
Wallace said of the two, "Honestly, as somebody who's spent six years in the White House, my immediate reaction was, 'Those are two people at the top of their game,'"
"I think that (Doocy) has become the Sam Donaldson of this White House press corps," Wallace then suggested, referencing former ABC News Chief White House correspondent Sam Donaldson, who was known for his aggressive question of former President Reagan.
After pointing out that he was working in the White House press corps when Donaldson was there, Wallace, apparently not wanting to appear too biased then declared, "Jen Psaki, I think, is one of the best press secretaries ever."
ACT for America's Brigitte Gabriel shared a clip Wallace making the compliment about Psaki and urged, "TURN OFF FOX NEWS."
Juanita Broaddrick responded to Gabriel's tweet by offering her opinion of Wallace and said, "What a douchebag he is."
What a douchebag he is.

— Juanita Broaddrick (@atensnut) October 24, 2021
After the praise for Psaki, Wallace added, "I don't know that anything was particularly accomplished, but they both gave and got pretty good."
John Roberts, who was on one side of Wallace in the split screen at the time, then suggested, "I think they appreciate sparring with each other."
While the talking heads at Fox News may consider this good political theater, the average American who has to deal with the fall out from illegal immigration does not.
The Daily Beast found the whole thing amusing and used Wallace's words to mock Gabriel's and other conservative's reactions.
Former White House press secretary Sean Spicer told Newsmax this morning about Wallace's comments, "I'm not really sure what Jen (Psaki) has done to deserve this other than not take serious, tough questions."
"I'm not really sure what Jen [Psaki] has done to deserve this other than not take serious, tough questions," said fmr. WH Press Secretary @seanspicer of Fox's Chris Wallace's comments about Jen Psaki, on Monday's "National Report". pic.twitter.com/eUJgrBgL8F

— Newsmax (@newsmax) October 25, 2021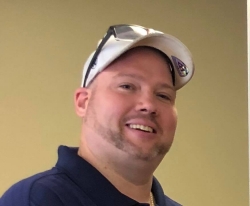 Latest posts by David Caron
(see all)