Looking to cash in on the events of Jan. 6, former Metropolitan Washington D.C. police officer Michael Fanone, who is now a CNN contributor said in a recent Rolling Stone interview that he is "broke."
In the interview, Fanone insisted that Jan. 6 "destroyed my career" as a police officer, as he realized that he would be unable to work as an officer again after he testified in Congress.
"I knew pretty shortly after my congressional testimony that my career in law enforcement was f*cking over with," Fanone said.
Fanone noted that after his testimony "the criticism from within the [police] department went from quiet whispers to screams and yells."
"Hold the Line: The Insurrection and One Cop's Battle for America's Soul," is Fanone's memoir and is set to be released on Oct. 11.
Leftists celebrated Fanone's interview including U.S. Congressman Eric Swalwell (R-CA), who referenced the title of the article, which was "Michael Fanone is not your f*cking hero."
"I love this story (but I disagree with the headline). Every day I'm grateful for the bravery of people like Officer Mike Fanone on January 6," Swalwell claimed.
I love this story (but I disagree with the headline). Every day I'm grateful for the bravery of people like Officer Mike Fanone on January 6. Check out ⁦@AlexMorrisNY⁩'s profile.

Michael Fanone Is Not Your F–king Hero – Rolling Stone https://t.co/7AX18yqfwT

— Rep. Eric Swalwell (@RepSwalwell) October 2, 2022
One leftist Twitter user urged "Don't buy [New York Times White House correspondent] Maggie Haberman's book. Buy Michael Fanone's book."
Don't buy Maggie Haberman's book.

Buy Michael Fanone's book.https://t.co/6vUH2o25gH

— Rokey RAGE IS MY CARDIO 🇺🇸 (@rokeypdx) October 3, 2022
Fanone recently appeared on CNN and told them that during the trial of one of the Capitol defendants who was recently sentenced to 7 years, "His mother stood up and tried to apologize to me in the courtroom and later on, as I was leaving, his mother and several other individuals that were seated with her called me a piece of sh*t."
Fanone: His mother stood up and tried to apologize to me in the courtroom and later on, as I was leaving, his mother and several other individuals that were seated with her called me a piece of shit pic.twitter.com/JmTeX81NzG

— Acyn (@Acyn) September 28, 2022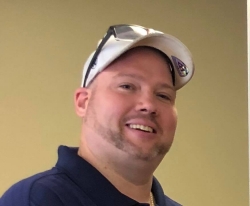 Latest posts by David Caron
(see all)