Left-wing anchor Dan Rather was among a number of liberals who took a shot at U.S. Senator Joe Manchin (D-WV) today.
Manchin told a West Virginia radio station today that he was unwilling to move forward with any action on climate legislation until he saw the August inflation numbers.
In a tweet, Rather called Manchin a "one-man climate wrecking crew" with complicity from Senate Republicans.
"A one-man climate wrecking crew (with complicity from the entire Republican Party in the Senate)," Rather declared in the tweet.
Rather also shared a New York Times article titled, "How One Senator Doomed the Democrats' Climate Plan."
Manchin "led his party and his president through months of tortured talks, with nothing to show for it as the planet dangerously heats up," the Times claimed.
In the article, the Times listed off ways that Manchin supposedly doomed the "Democrats' climate plan":
First, he killed a plan that would have forced power plants to clean up their climate-warming pollution. Then, he shattered an effort to help consumers pay for electric vehicles. And, finally, he said he could not support government incentives for solar and wind companies or any of the other provisions that the rest of his party and his president say are vital to ensure a livable planet.
The Times then targeted Manchin for taking "more campaign cash from the oil and gas industry than any other senator, and who became a millionaire from his family coal business."
John Podesta, a former senior counselor to President Barack Obama and founder of the Center for American Progress, a left-leaning think tank, said, "It seems odd that Manchin would choose as his legacy to be the one man who single-handedly doomed humanity."
Senate Democratic staff members privately seethed and sobbed Thursday night, the Times explained, after more than a year of working nights and weekends to scale back, water down, trim, and tailor the climate legislation to Manchin's exact specifications, only to have it rejected inches from the finish line.
Joe Biden said while traveling to Saudi Arabia today, "Action on climate change and clean energy remains more urgent than ever."
"So let me be clear: If the Senate will not move to tackle the climate crisis and strengthen our domestic clean energy industry, I will take strong executive action to meet this moment," Biden added.
A one-man climate wrecking crew (with complicity from the entire Republican Party in the Senate). https://t.co/rtnU1qywUh

— Dan Rather (@DanRather) July 15, 2022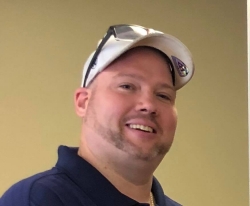 Latest posts by David Caron
(see all)