Last week we reported that gun control activist David Hogg announced that plans were in the works for him to launch a company that makes pillows to compete with Mike Lindell and MyPillow.
Today, Hogg announced that the name of the new pillow company is "Good Pillow." In a statement, the company said that their "commitment to bring a quality, ethical, and sustainable company exists at the forefront of all our business decisions large and small."
ANNOUNCING: Good Pillow

Read an update on the our progress below.
You can follow us @GoodPillowCo

If you would like to sign up to be notified when preorders are available please go to https://t.co/luoM4tJOH1 pic.twitter.com/JcfcA2n4gN

— David Hogg (@davidhogg111) February 9, 2021
Making light of the Jan. 6 siege on the Capitol, Hogg tweeted, "You want to make an (insurrectionist) freak out ? Tweet #GoodPillow." Hogg misspelled insurrectionist.
You want to make an inserectionist freak out ?
Tweet #GoodPillow

— David Hogg (@davidhogg111) February 9, 2021
Bill and Hillary Clinton's daughter Chelsea was one of many to tweet out "#GoodPillow" at the behest of Hogg to get the hashtag trending, which Hogg retweeted.
#GoodPillow https://t.co/2d0GJBE19K

— Chelsea Clinton (@ChelseaClinton) February 10, 2021
Hogg then urged his followers to keep tweeting the hashtag and mocked the fact that Lindell is suspended from Twitter.
"Lets keep #GoodPillow at #1 non trending until Mike the Pillow Guy sees it !!! Oh wait," Hogg tweeted.
Lets keep #GoodPillow at #1 non trending until Mike the Pillow Guy sees it !!!

Oh wait

— David Hogg (@davidhogg111) February 10, 2021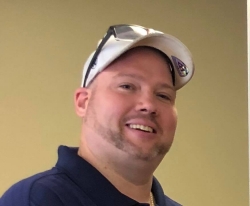 Latest posts by David Caron
(see all)