As redistricting ramps up with the results set to potentially have an impact on which party controls the U.S. House of Representatives next year, there is a possibility that Tennessee, which is currently 7 Republicans to 2 Democrats, might be redistricted to an 8-1 GOP advantage.
Democratic Congressman Jim Cooper, who represents the 5th district in the state, is at risk of losing his seat through the process.
Currently, his district only holds a 9 point advantage, the slimmest margin in the state, so it would be easy for Republicans to split up his seat, which encompasses Nashville.
At a hearing of the Select Committee on redistricting yesterday, Cooper begged the legislators not to do that and to keep Nashville whole.
President Joe Biden won Davidson County, which includes Nashville, by a margin of 65%-32% in 2020, one of only three counties in the state that he won.
Donald Trump won the state as a whole, 61%-38%, over Biden.
In a tweet, Cooper declared, "Yesterday, I called on state lawmakers to allow democracy to keep working in Tennessee by respecting voters, all voters, and by keeping Nashville whole."
Sharing a video of his remarks in a subsequent tweet, Cooper said, "My remarks on protecting Nashville from partisan gerrymandering."
My remarks on protecting Nashville from partisan gerrymandering: pic.twitter.com/6pV8dCM4GO

— Jim Cooper (@repjimcooper) September 9, 2021
The first-ever bipartisan House Select Committee on Redistricting only has four Democrats on it, compared to 12 Republicans and is chaired by Republican Deputy Speaker Curtis Johnson.
Republicans hold supermajorities in both the House and Senate as well as the Governor's seat so Democrats would be unable to stop whatever map is chosen, unless they were able to win a court case.
Redistricting expert Dave Wasserman tweeted about the situation, "Breaking: per two TN sources, Republicans are proceeding w/ drafting a redistricting plan that would carve up Nashville, likely dooming #TN05 Rep. Jim Cooper (D) and converting current 7R-2D map into 8R-1D."
Breaking: per two TN sources, Republicans are proceeding w/ drafting a redistricting plan that would carve up Nashville, likely dooming #TN05 Rep. Jim Cooper (D) and converting current 7R-2D map into 8R-1D.

— Dave Wasserman (@Redistrict) September 9, 2021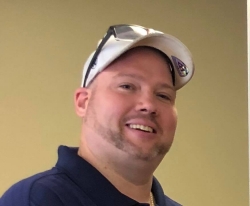 Latest posts by David Caron
(see all)