Forty-fifth President Trump reacted to new surveys revealing he would beat President Joe Biden in five important swing states if the election were held today.
"And these are the States I supposedly lost (but didn't!)?" Trump wrote in a statement released through his "Save America Pac" on Monday.
November 23, 2021
The poll revealed Trump would beat Biden in Michigan, by 12 points, Wisconsin, by 10 points, Arizona, by 8 points, Pennslyvania, by 6 points, and Georgia, by 3 points.
Michigan, Wisconsin, Arizona, Pennsylvania, and Georgia are all states that Trump supposedly lost in the 2020 presidential election.
Not only that, Trump's polling revealed Trump would beat Biden in the popular vote, too, by 3 percent.
Top Republican pollster who conducted these surveys for Trump's new super PAC, Tony Fabrizio, says, "Poll after poll clearly demonstrates that former President Donald Trump is still the 800-pound gorilla in the GOP and would be its 2024 nominee should he run."
"This new data clearly shows that today the voters in these five key states would be happy to return Trump to the White House and send Biden packing," Fabrizo added.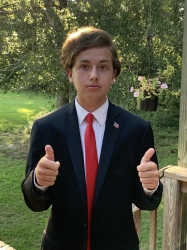 Latest posts by Reed Cooper
(see all)