Two days prior to the primary election in Ohio, the 45th President Donald Trump (perhaps intentially) combined the names of GOP Ohio Sen candidates JD Vance and Josh Mandel after his endorsement of Vance.
The situation occured while Trump was speaking at a "Save America" rally in Nebraska in support of gubenatorial candidate Charles Herbster.
In a clip shared by left-wing "journalist" Acyn, Trump begins by noting that he's endorsed Dr. Oz and "JP, JD Mandel and he's doing great."
Trump: We've endorsed Dr.Oz. We've endorsed JP right? JD Mandell. He's doing great pic.twitter.com/wkP3KetanL

— Acyn (@Acyn) May 1, 2022
Both Vance and Mandel have touted their support of Trump throughout their campaigns and it has been reported that it was a tough decision.
It seems unlikely that Trump would seriously be unable to remember who it was exactly that he endorsed and what their exact names are.
Vance has received criticism for past comments against Trump, so the selection was a surprise to some.
In an interview with Charlie Rose in 2016, Vance declared, "I'm a Never Trump guy. I never liked him."
A Fox News poll released last Tuesday reported that Vance's support jump by 12 points following the endorsement and put him in first place with 23 percent of the vote.
Prior to that, Vance was in third place, with Mandel in second and Mike Gibbons in the lead.
Mandel maintained second place in the latest poll while Gibbons essentially swapped places with Vance.
The candidates are running to replace the retiring GOP Sen Rob Portman and it is expected to continue to be held by a Republican in increasingly red Ohio, where Trump beat President Joe Biden in 2020 by an 8-point margin.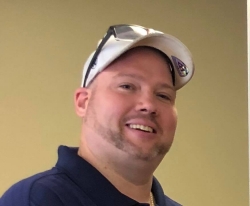 Latest posts by David Caron
(see all)