The New York Times and USA Today recently used CDC data to model how the how the virus could spread, claiming that if no actions were taken to stop transmission in the US between 160 million and 210-214 million people could be infected and as many as 200,000 to 1.7 million people could die.
Business Insider released an article today where the average of the researchers' predictions suggested that the virus could kill about 195,000 people in the US by the end of the year. Another model estimated up to 2.2 million people could die if no actions were taken to stop transmission in the US.
At today's Coronavirus press briefing, Dr. Deborah Birx criticized such a model, "saying there is no reality on the ground where we can see that 60-70% of Americans are going to get infected in the next 8-12 weeks."
Video: Dr. Deborah Birx calmly but brutally tears apart the liberal media hysteria about a future in which hospitals will be faced with such a shortage at ventilators that they'll have to decide who gets resuscitated and who is left to die #coronaviruspandemic pic.twitter.com/jXqXMpsdml

— Curtis Houck (@CurtisHouck) March 26, 2020
We were reassured with our colleagues in New York that there are still ICU beds remaining, that there are still significant over 1000, 2000 that haven't been utilized yet. Please, for the reassurance of people around the world, to wake up this morning and look at people talking about creating DNR situations for patients, there is no situation right now in the United States that warrants that kind of discussion. To say that to the American people, to make the implication that when they need a hospital bed it's not going to be there, when they need a ventilator it's not going to be there. We don't have that evidence. We're adapting to the reality on the ground, we're looking at the models at how they can inform, but we're also learning very clearly from South Korea and from Italy and from Spain.
The Hill wrote a glowing piece on Dr. Birx today. She is the ambassador-at-large and U.S. Global AIDS Coordinator, she's taking on virus as the response coordinator for the White House Coronavirus Task Force.
"She is somebody that knows how to manage the whole of the U.S. government to move it toward a particular goal. If the White House lets her do that, it could be exactly the kind of coordination that has been lacking up to this point," Matthew Kavanaugh, who directs Georgetown's Global Health Policy and Governance Initiative and knows Birx from his years working on global HIV policy, told The Hill.
It'll be interesting to see how they view her after the speech today and writer Aiden Wolfe already has been critical with a tweet saying, "Pretty sure I just witnessed Dr. Birx orgasm while gleefully gurgling the vomit Trump spewed in her mouth like a big bloated bird high on bath salts."
Pretty sure I just witnessed Dr. Birx orgasm while gleefully gurgling the vomit Trump spewed in her mouth like a big bloated bird high on bath salts. We're entering a full stage fucking cover up, folks. Hiding the number of bodies & telling us to die delivering Pizza Hut.

— ?Aiden Wolfe (@AidenWolfe) March 26, 2020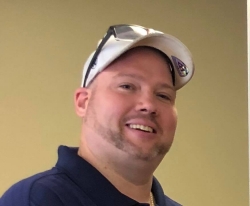 Latest posts by David Caron
(see all)