Anthony Fauci was at it again today, offering his medical advice for what he believes constitutes a safe New Year's Eve celebration.
Fauci told CNN's Kaitlan Collins, "When you are talking about a New Year's Eve party, where you have 30, 40, 50 people celebrating, you do not know the status of the vaccination — I would recommend strongly, stay away from that this year." 
"There will be other years to do that, but not this year," Fauci insisted during the morning "New Day" show.
Fauci said, however, that he believes vaccinated Americans can gather within a close family setting with other family members who are vaccinated and have received boosters.
Collins speculated that daily new cases could eventually reach half a million, although Fauci said he doesn't think that will happen.
Dr. Anthony Fauci says he recommends that people "stay away" from large New Year's Eve gatherings where they don't know the vaccination status of guests.

"There will be other years to do that, but not this year," he says.https://t.co/X6u5qGcrbn pic.twitter.com/5eaEpVfWhd

— New Day (@NewDay) December 27, 2021
In early December, Fauci said that vaccinated people should "ask and maybe require" Christmas guests to provide proof of vaccination in order to feel "comfortable."
Last week, New York City announced modified plans for its fully vaccinated celebration at Times Squarec, where a limited crowd will be allowed to celebrate while wearing face masks.
Capacity for the event at the so-called "crossroads of the world" will be capped at roughly 15,000 people, nearly four times less than the non-pandemic crowd.
Visitors will not be permitted entry until 3 p.m. on New Year's Eve, which is much later than prior years and proof of full vaccination, meaning the last dose of the regimen was at least 14 days before New Year's Eve, with valid photo identification will remain required as the mayor had previously announced.
Mayor Bill de Blasio's office has warned that more could change in the coming days, as COVID cases soar in the city.
Karol Markowicz noted today, "Over 25% of America's positive COVID cases are in NYC? I feel like this story would be framed differently if it were Florida."
Over 25% of America's positive COVID cases are in NYC? I feel like this story would be framed differently if it were Florida. pic.twitter.com/M9LEpWKm7h

— Karol Markowicz (@karol) December 27, 2021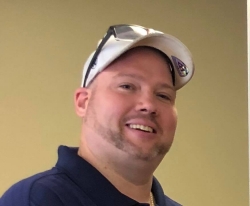 Latest posts by David Caron
(see all)