Joe Biden has once again tripped over his words, causing #NoPlanJoe to trend on Twitter after Biden stated that there is "No federal solution" to solving the COVID pandemic.
After seeing the trending hashtag, the House Republicans shared a screenshot and asked, "Hey @Twitter can we get some context please? #NoPlanJoe"
Hey @Twitter can we get some context please #NoPlanJoe pic.twitter.com/zR5GZNLDbQ

— House Republicans (@HouseGOP) December 28, 2021
Twitter user "Defiant L's," who creates graphics mainly showing previous contradictions by liberals, jumped on the situation as well to point out Biden's previous insistence that he had a plan.
In mid-October of last year during his campaign, Biden tweeted, "We're eight months into this pandemic, and Donald Trump still doesn't have a plan to get this virus under control. I do."
December 27, 2021
Biden made the comments today during a meeting with governors and while he was discussing the situation with moderate Republican Arkansas Gov. Asa Hutchinson.
Hutchinson told Biden, "One word of concern or encouragement for your team is that as you look towards federal solutions that will help alleviate the challenge, make sure that we do not let federal solutions stand in the way of state solutions."
"The production of 500 million rapid tests that will be distributed by the federal government is great, but obviously that dries up the supply chain for the solutions that we might offer as governor," Hutchinson explained.
Biden responded, "There is no federal solution. This gets solved at the state level."
"I'm looking at Gov. Sununu on the board here. He talks about that a lot and it ultimately gets down to where the rubber meets the road and that's where the patient is in need of help or preventing the need for help," Biden added, referencing New Hampshire Republican Gov. Chris Sununu.
Biden on COVID-19 test shortages: "There is no federal solution." pic.twitter.com/X2t45MDgLK

— The Post Millennial (@TPostMillennial) December 27, 2021
U.S. House Rep Lauren Boebert (R-CO) took Biden to task over the comments and declared in a tweet, "Yeah Joe, we know. Only took you 50 years in government to realize what the GOP has been saying all along. @GovRonDeSantis has proven that states can take better care of their people than the federal government can."
Yeah Joe, we know.

Only took you 50 years in government to realize what the GOP has been saying all along.@GovRonDeSantis has proven that states can take better care of their people than the federal government can. pic.twitter.com/RJyroHnM5b

— Lauren Boebert (@laurenboebert) December 27, 2021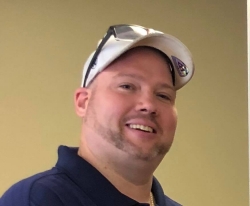 Latest posts by David Caron
(see all)