"The idea of letting President Trump send a text message to every American whenever he wants to may sound like a bad idea" Jimmy Kimmel starts off the segment with, and he is referring to the FEMA Presidential cell phone alert. This was initiated under the Trump presidency, in 2018. He then went on to say, "but what do we do here in Hollywood when we have a bad idea? We make a major motion picture out of it". In this case, it was a skit for Jimmy Kimmel's late-night comedy show, 'Jimmy Kimmel Live!'.
In the video below you can see the skit on YouTube where they mock President Trump as late-night comedy shows have disproportionately done since his election.
SEE JIMMY KIMMEL LIVE VIDEO BELOW:
The video was, in fact, a very bad idea, and that's no joke. Kimmel caused his employer, ABC, to lose $395,000 to a fine by the FCC.
SEE OFFICIAL PRESS RELEASE FROM FCC BELOW: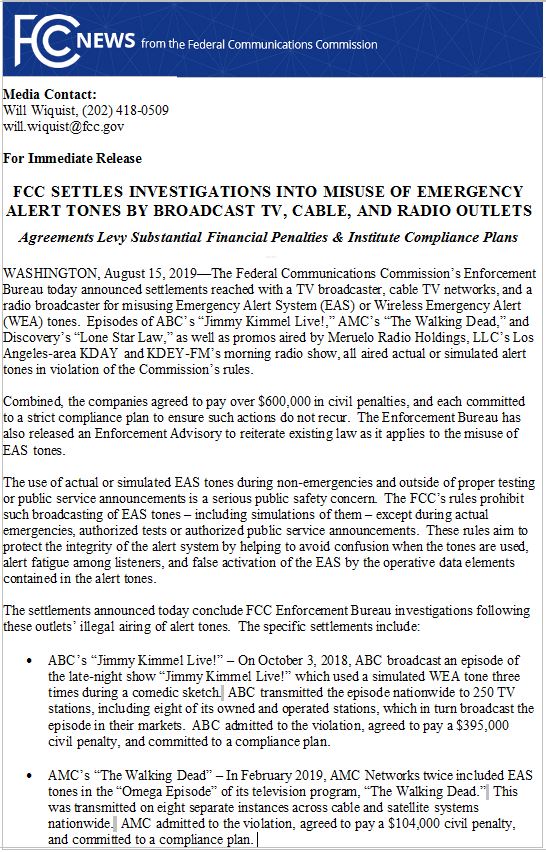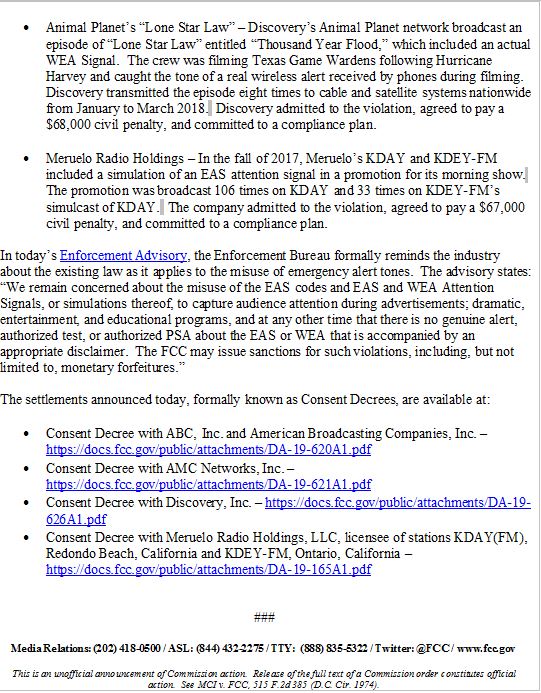 As reported by CNN:
In a statement Thursday, the Federal Communications Commission said it hit the show with a $395,000 fine for misusing the tone from the emergency alert system. The emergency alert system (EAS) tone is used on television and cellphones to warn people of impending emergencies such as tornadoes and floods. To protect the purpose of the warning system, the agency has a rule against use of EAS tones or their simulations — except in actual emergencies, authorized tests or qualified public service announcements.
Other shows and networks were also fined for the misuse of EAS or emergency alert systems and will likely not be making jokes about this at the expense of President Trump, or under any other context, again.
AMC was fined $104,000 for the use of the EAS in 'The Walking Dead', Discovery will pay $68,000 for 'Lone Star Law' on Animal Planet that apparently captured an emergency alert during a filming. The owner of several radio stations in California (Meruelo Radio Holdings) also got fined $67,000 for us of the tone in promotional material – OUCH.
The companies have to agree to a strict compliance plan in addition to making the payments within a short 30 day period.
Latest posts by Ian MacDonald
(see all)