Alaska Senator Lisa Murkowski (R) is trailing her primary opponent Kelly Tshibaka by almost 15 points in a poll released by Cygnal.
Alaska Senator Lisa Murkowski is now TRAILING her Republican challenger by nearly 15 points https://t.co/bdWQvW91dh

— Daily Mail Online (@MailOnline) April 6, 2021
Murkowski was censured by Alaskan Republicans for voting to convict former President Trump. Tuckerman Babcock, former chair of the Alaska Republican Party is quoted as saying, "The party does not want Lisa Murkowski to be a Republican candidate. It went further than censure, which was strong. But it also directed the party officials to recruit an opponent in the election and to the extent legally permissible, prevent Lisa Murkowski from running as a Republican in any election."
Former President Trump vowed last year to campaign against Murkowski after her vote against repealing the affordable care act and her vote against Supreme Court Justice Brett Kavanaugh. Murkowski had stated she was 'struggling' with whether or not to vote for Trump in November of 2020 also stating, "When I saw Gen. Mattis's comments yesterday I felt like perhaps we're getting to the point where we can be more honest with the concerns we might hold internally and have the courage of our convictions to speak up". Mattis was very critical of Trump and accused of him dividing the nation.
This was the final straw for Trump he tweeted, "Few people know where they'll be in two years from now, but I do, in the Great State of Alaska (which I love) campaigning against Senator Lisa Murkowski" Followed up with, "Get any candidate ready, good or bad, I don't care, I'm endorsing. If you have a pulse, I'm with you!"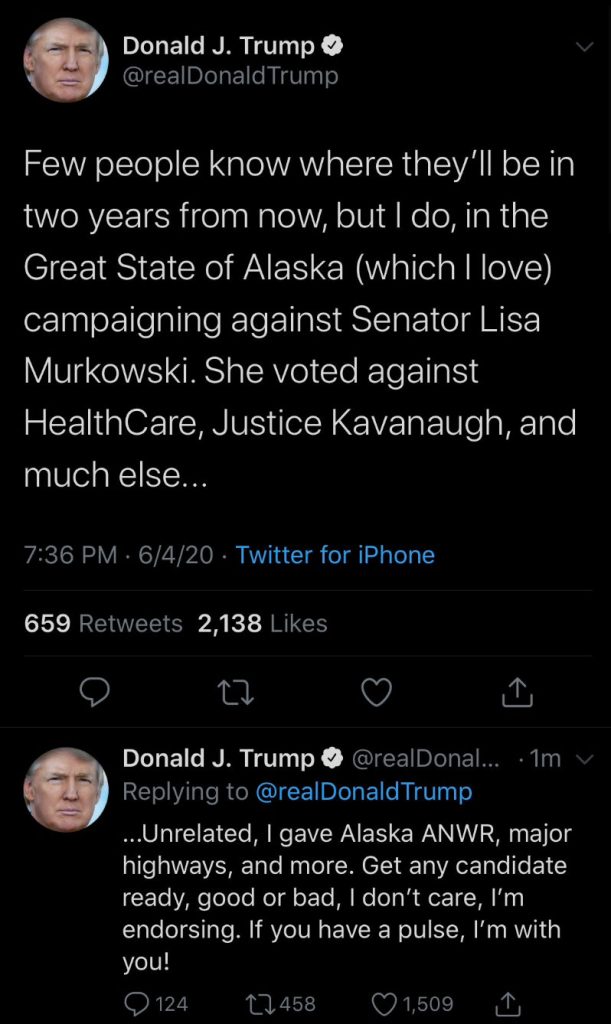 It seems the Alaska GOP has found their candidate to run against Murkowski. Kelly Tshibaka an Alaska native, former Alaska State Commissioner, resigned on March 29th when she announced her run for Senate. Tshibaka has spent seventeen years working in DC under Bush, Obama, and Trump. She was appointed to be commissioner of Alaska's Department of Administration in 2019.
Tshibaka website says, "First and foremost I'm a fighter… fought hard to be the first in my family to pursue a college degree and attend law school. I fought to expose waste, fraud, and abuse in government, and I'll bring that same fight to the US Senate where I will always defend Alaska values."
Although Trump has not made an endorsement of Tschibaka senior advisors include, former Trump campaigns manager Bill Stepien, deputy campaign manager Justin Clark, and battleground states director Nick Trainer.
Murkowski will have a battle if she wants to keep her seat and she may not be able to keep it under the title of Republican. It will be an interesting election in the state of Alaska.
Latest posts by Kay Williamson
(see all)