We would not categorize former and possible future President Donald Trump and Tesla CEO Elon Musk as enemies or competitors. If anything, they are more aligned than anything else, politically speaking. However, they do have differences in opinions, styles, goals, and businesses.
It's going to be an interesting dynamic going forward as Musk's potential Twitter takeover still looms, and Donald Trump tries to fix the glitches over at TRUTH Social to get things streamlined and working more reliably.
As we have been steadily reporting, Musk is trying to take over Twitter but has hit some snags. He recently said the deal is "on pause" but at the same time that he is committed to the acquisition and seems to want to know how many Twitter users are "bots" and "spam".
As this all plays out, the mid-term elections loom, and Trump is making his moves, endorsements, and posts on TRUTH Social. One of his most recent posts is telling people to "Leave Twitter and get the TRUTH!!!".
Right-wing supporters of both Trump and Musk can't blame Trump for this statement, since it may be a while before Musk gets to take over Twitter if it happens at all. See screenshot from TRUTH: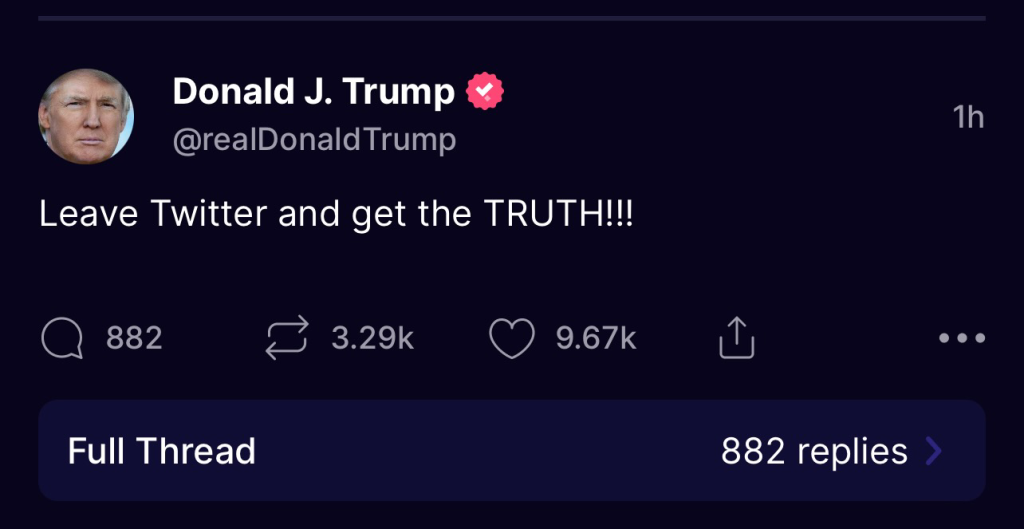 See some of our related scoops:
Unfortunately, when the initial news of a deal between Twitter and Musk broke, some users thought that Musk was immediately in charge, and tried making new Twitter accounts after having been banned. This did not go over too well as Musk is definitely not in charge yet.
Time will tell how everything plays out. It's in our view that users should go to all alternative platforms including the main ones, TRUTH, Gab.com, Telegram, and everything else, and use the ones that best let you get your message out.
Latest posts by Ian MacDonald
(see all)