In a 911 call that was released today, former prison guard Vicky White can be heard telling escaped inmate Casey White "let's get out and run" as officers closed in.
The nearly 7 1/2-minute call begins with the dispatcher stating that the caller had reached 911 as what is apparently Vicky can be heard saying "Oh my God" repeatedly.
The dispatcher then tries again to establish a conversation with her again Vicky can be heard talking about airbags stating, "airbags are going off. Let's get out and run."
It also sounds like gunshots are being fired as Vicky screams and appears to say, "Don't kill us."
The Vanderburgh County Coroner's Office has declared, however, that Vicky ended up taking her life, although there aren't any more gunshots or voices heard in the 911 recording until police arrive extract her from the vehicle.
In a bodycam video that was released yesterday, it can be seen that the pair's vehicle had flipped on its side prior to apprehension.
The East Bay Times detailed the apprehension:
Motel 41, Evansville. A sighting of the Cadillac led an officer to the motel (formerly a Motel 6) about 5 miles from the car wash — and less than a half-mile from the sheriff's office. It was later learned that the pair had been staying there since Tuesday, May 3, and had paid for two weeks in advance. On the evening of Monday, May 9, an officer saw Vicky White, wearing a wig, leaving the motel. Casey White is thought to have been driving as officers pursued the Cadillac north on Highway 41.
After a pursuit of about 2½ miles, the Cadillac turned off the highway at Anchor Industries, a factory that makes awnings, and drove across the parking lot and a lawn. As they neared Burch Road, a dead-end street that runs alongside the factory's lawn, a law-enforcement vehicle rammed the Cadillac and sent it crashing into a shallow ditch.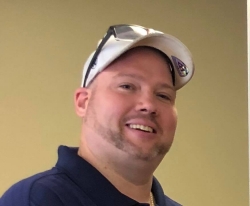 Latest posts by David Caron
(see all)