Former Secretary of State Colin Powell, who served under Former President George W. Bush and publicly declared that he was voting for now President Joe Biden last year, has passed away at 84 years old due to "complications from COVID-19."
His death came despite being "fully vaccinated" from the virus, according to his family
Powell was the first black Secretary of State and received treatment at the Walter Reed Medical Center prior to his death.
His family broke the news in a Facebook post where they said, "General Colin L. Powell, former U.S. Secretary of State and Chairman of the Joint Chiefs of Staff, passed away this morning due to complications from Covid 19."
"He was fully vaccinated. We want to thank the medical staff at Walter Reed National Medical Center for their caring treatment. We have lost a remarkable and loving husband, father, grandfather and a great American," the statement read.
Powell was a driving figure in the United States entering the disastrous Iraq War and he gave a speech at the UN that in 2018, The Intercept called deceiving.
In 2016, Powell did not vote for Donald Trump and had made the announcement that he was voting for Biden in June of last year.
Powell said at the time, "The Republican Party, the president thought they were immune, they can say anything they wanted and even more troubling, the Congress would just sit there and not in any way resist what the president is doing."
Trump responded on Twitter at the time and referenced the Iraq war as he called Powell "a real stiff who was very responsible for getting us into the disastrous Middle East Wars."
Powell "just announced he will be voting for another stiff, Sleepy Joe Biden," Trump had also added.
Biden had welcomed Powell's endorsement as it appeared just like with Bush, all was forgiven as long as they were opposing Trump
As Democrats often do, Biden made the endorsement about something beyond politics as he said in a tweet, "This isn't about politics, this is about the future of our country. Grateful for your support, Secretary Powell."
This isn't about politics. This is about the future of our country. Grateful for your support, Secretary Powell. https://t.co/0xLPyXiIPb

— Joe Biden (@JoeBiden) June 7, 2020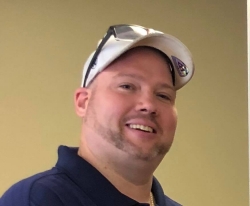 Latest posts by David Caron
(see all)