Conservative pundit and political candidate Pete D'Abrosca has exposed a Gen Z GOP activist as potentially nothing more than a liberal in disguise. Sadly, that's a lot of "Republicans" these days. Nevertheless, this one is particularly interesting. Not too many Republican activists volunteered for Hillary Clinton and showed up to anti-gun protests. But that's exactly what "Elle Kalisz" as she goes by on Twitter has in her history.
D'Abrosca Exposed her as Gabrielle Kalisz who has her previous experience with the Clinton staff still displayed apparently. Update: the Hillary Clinton experience may no longer be currently displayed publicly but it does appear to be an accurate historical record.
A bizarre exchange we will get to in a moment just goes to show that conservative organizations who prey on unsuspecting baby boomers for money and retweets should not always be trusted. Many are just in it for the money, some, are actually bad actors altogether. We can only speculate as to which one it is with this particular situation.
We spoke with Pete about the matter, who told us:
It looks like the Gen Z GOP organization is no different than the rest of the irredeemable GOP – comprised of Democrats who think governing means sacrificing conservative values to placate the radical leftist mob that will always hate them. This organization can be safely ignored by actual conservatives.

Pete D'Abrosca
Beyond what we have reported so far, this bizarre Twitter exchange mostly tells the story if you follow it to the beginning:
Kalisz tried hitting back at some other tweets by D'Abrosca using ad hominem attacks about D'Abrosca's physical appearance, but being that this isn't Pete's first political rodeo, he wasn't fazed by it all apparently. That's when he dropped the bomb:
"Gen Z GOP" https://t.co/UpADdF1OkF pic.twitter.com/Qj77SAITPu

— Pete D'Abrosca (@pdabrosca) March 25, 2021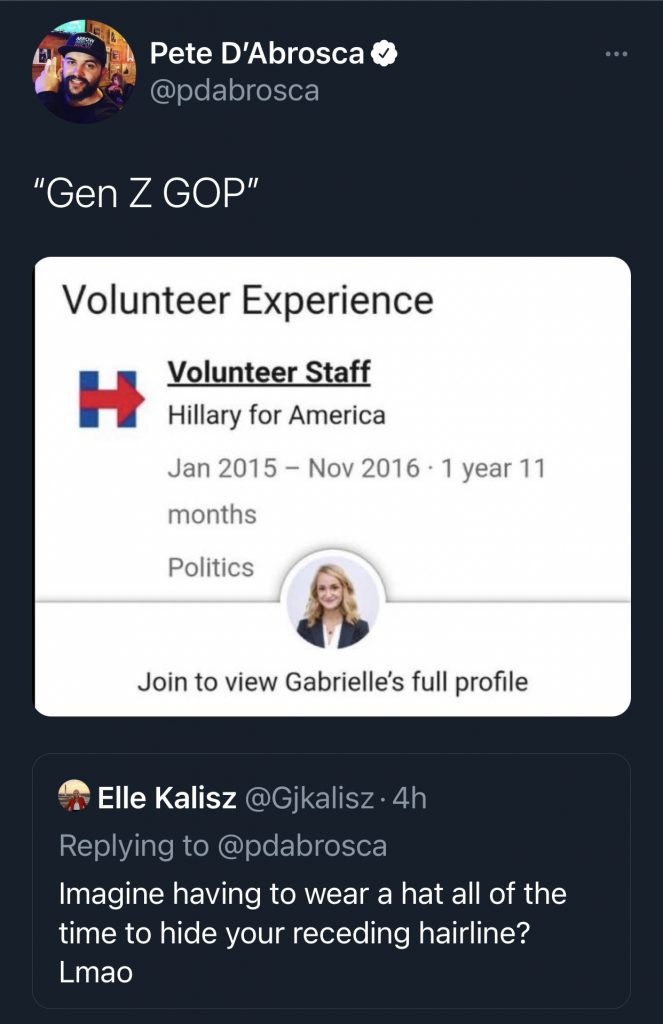 Gen Z GOP appears to be yet another Libertarian college organization that wants to water down what it means to be a Conservative. They appear to be a recruiting and grooming organization that has this posted on their site:
"We must chart a new vision for the Republican Party. A party that can find balance, formulate solutions, and focus on the future. Our generation needs a party that will address the issues that affect us most. And our generation needs a palatable alternative to the political left."
Here's Kalisz holding an anti-gun sign that says:
"Sticks and stones may break my bones but bullets actually kill me"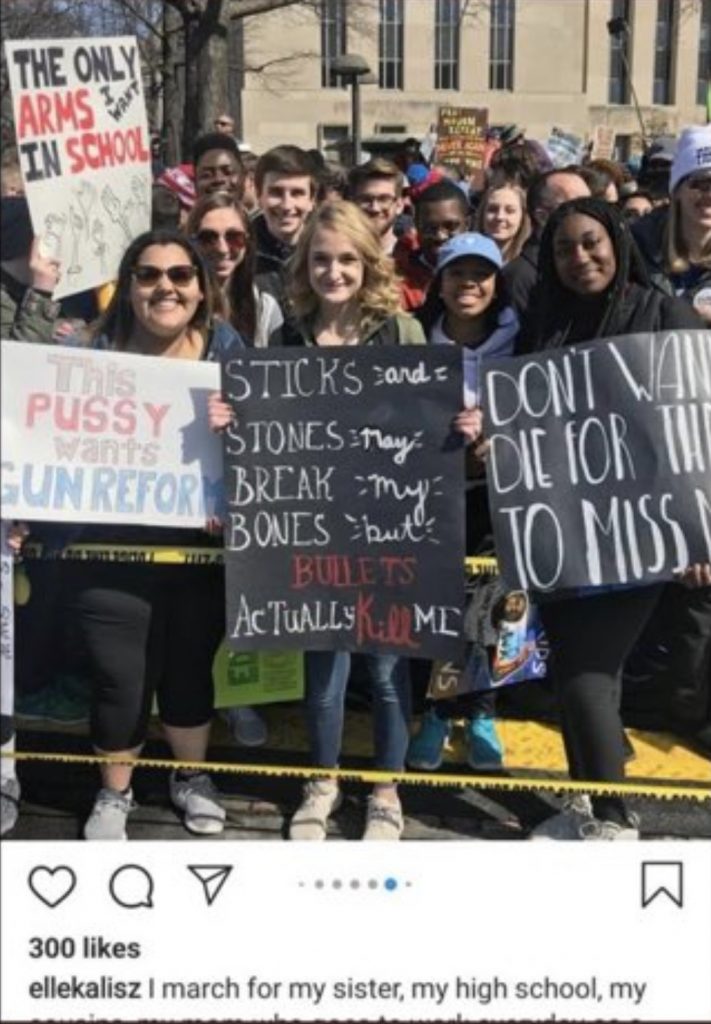 Kalisz, who spends much of her time trolling people on Twitter, (just as many on the right as on the left in our observation), is listed as Vice President of Communications & Spokeswoman. She claims she's no longer of the same political ideology as she was when she supported Hillary Clinton against Donald J. Trump in 2016.
One Twitter user asked her exactly which of her views have changed, to which she has not responded yet. It appears her Twitter account is now set to private though, and some of her tweets have also been deleted, so you can only see one part of that tweet below:
Which of your views changed in particular?

— Imperator Philippus Arabus (@PhilippusArabus) March 25, 2021
One of the Op-Eds posted to Gen Z GOP's organization was about how they tried to keep Donald Trump from being re-elected. They wrote in the Boston Globe via Mike Brodo, Ryan Doucette, Samuel Garber, and John Olds in part:
"You cannot tell me this is our guy."
That feeling, that sentiment of unfettered disgust is one that animates the sensibilities of many young Republicans today. It is a simple emotion — one of pure conviction — that opposing the personal and political essence of this president of the United States is the right thing to do.
However, while we firmly believe that preventing the reelection of Donald Trump is a necessary precondition to realizing our vision for the future of the GOP, our mission will become even more important after Nov. 3.
So basically they helped Hillary Clinton and Joe Biden, in a roundabout way. Doesn't sound very conservative at all to us.
We will do our best to continue reporting on potentially fake Republicans and will update this story as/if needed.
Latest posts by Ian MacDonald
(see all)