A Toledo, Ohio mural dedicated to George Floyd, whose death while in police custody sparked riots and protests throughout the country last year, was reduced to rubble today following a lightning strike.
WTOL 11 News reported that the piece was created by Toledo artist David Ross just about one year ago and he said the artwork stands as a memorial and reminder to never forget what happened that day in May of 2020.
Journalist Vincent James tweeted a screenshot of the Facebook post of the article by WTOL 11 News and said, "It appears God isn't too happy about people venerating a hardcore felon."
It appears God isn't too happy about people venerating a hardcore felon. pic.twitter.com/Z5NlmYlHKf

— Mr Vincent James (@elefent_james) July 14, 2021
A witness who saw the wall fall told the Toledo Fire and Rescue Department they had seen a lightning bolt strike the building and the department later confirmed the strike to be the cause of the collapse, according to WTOL 11 News.
Toledo was one of the sites of the riots last summer as numerous businesses downtown and in west Toledo were damaged.
Last month, more than 20 people filed a lawsuit against the City of Toledo and dozens of its police officers after they say they were injured by police.
There were 10 arrests and three confirmed injuries initially as two protesters and one police officer were injured by projectiles thrown by protesters, one was an M-80 and the officer was injured by a rock thrown.
WTOL 11 News reported at the time that the 23 plaintiffs claim their civil rights were violated and Toledo Police used excessive force against them, causing significant injuries and according to the lawsuit, the plaintiffs were exercising their First Amendment rights, were peaceful protesters, and posed no threat to police.
At times during the protest, officers deployed wooden and rubber bullets, and tear gas supposedly causing the injuries sustained by the plaintiffs – broken bones, wounds requiring stitches, and blindness, the news outlet reported.
Update: Artist claims vandalism can't be ruled out.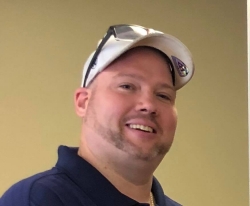 Latest posts by David Caron
(see all)