U.S. House Rep Kevin Brady (R-TX) challenged House Speaker Nancy Pelosi (D-CA)to provide "leadership and blasted Democrats for "playing political games with the debt ceiling," during a Fox News interview today
In an interview on Fox News' "Sunday Morning Futures," Brady declared the stalemate that risks a government shutdown an "economic and political crisis of the Democrats' own making."
Brady, the ranking member on the House Ways and Means Committee, explained that "Right now, they're attempting to ram through … over $5 trillion of crippling tax hikes and expansion of the welfare."
"But they've also failed to keep the government open, failed to provide disaster relief to Louisiana, and a lot of other states, and of course haven't raised the debt ceiling," Brady continued.
Brady insisted, "They've known this debt ceiling for two years was coming, they never passed a budget, haven't had a single discussion with Republicans about how we tackle our financial future as a country and they have the ability to pass this debt ceiling on their own."
From Newsmax:
Brady said Democrats will likely only deal with the top-line issues "if they're forced to."
"Right now I think they're more interested in playing political games with the debt ceiling which is wrong, than actually passing it and raising it," he said.
"I believe we can stop this, but we can't do it by ourselves," he asserted. "The question for the coming week is not about [House Speaker] Nancy Pelosi's [D-Calif.] leadership."
"This is a test that whether there are moderate Democrats left in the House, who will fight for their local small businesses and for American workers. That's the real key," Brady said.
U.S. House Rep Jim Banks (R-IN), the chairman of the Republican Study Committee, today shared a January 2018 tweet today from Pelosi where she criticized Republicans for controlling all three branches of government but still having a shutdown.
"This is the first time in recent memory that a government shutdown has been possible when one party — one party — has controlled the White House, House, & Senate. The Republicans own that. #DoYourJob," Pelosi said at the time.
September 26, 2021
Despite the fact that the Democrats now control all three branches, Pelosi is again blaming Republicans for a potential shutdown.
Today On ABC's "This Week," Pelosi noted, "We cooperated on three occasions when President Trump was president in order to lift the debt ceiling. Even to have the discussion that it could possibly be in default lowers … our credit rating."
While that may be the case, the Democrats are attempting to pass a $3.5 trillion spending bill at the same time, something Republicans oppose.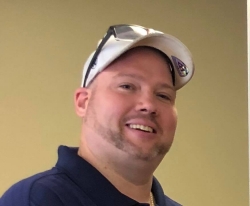 Latest posts by David Caron
(see all)