Former President Trump reportedly hung up on U.S. Sen Lindsey Graham (R-SC) after Graham told him, "You f'd up your presidency."
The incident supposedly happened earlier this year while Graham was attempting to advise Trump to accept that he lost the 2020 presidential election.
Washington Post reporter Bob Woodward shared the revelation while he was discussing his and co-author and fellow Post reporter Robert Costa's new book, "Peril," with host Chuck Todd on NBC's "Meet the Press."
The Hill transcribed the discussion between the host and the authors:
Todd asked Woodward and Costa how they would characterize the attitude Graham and former White House chief of staff Mark Meadows had towards Trump's refusal to accept the election results.
"We quote conversations between Sen. Graham and Trump in which Lindsey Graham says to Trump, 'You f'd up your presidency' at one point just a couple of months ago," Woodward said.
Woodward added that Trump hung up on Graham and then called him back a day later, at which point Graham said to Trump, "I would have hung up too."
"The core conclusion that Graham has is you lost a close election. Face it," said Woodward.
Todd asked Costa if Trump believes he lost the election, noting that the authors quoted Trump as saying that if he does not continue fighting the election results, then he will lose his base of supporters.
"I've learned covering President Trump and covering politics, it doesn't really matter sometimes what people think — it's what they do — and to assume nothing," Costa said.
"In 2015, a lot of people said Donald Trump won't run. He'll never win once he announced in 2016. Well, he won and lost in 2020. He wants power back, our reporting in the book shows," Costa continued. "He's out there with this Churchillian-type language — 'We'll never surrender. We'll never give in' — whipping up thousands of people across the country."
The Hill said that they had reached out to Graham's office for comment.
Despite Graham's rocky relationship with Trump, he told a Michigan crowd yesterday, "I don't think Trump is listening. He might be. I hope President Trump runs again."
Trump recently criticized Graham and other Republican senators in a statement for being unwilling to fight against the 2020 election results.
"Mike Lee, Lindsey Graham and all of the other Republicans who were unwilling to fight for the presidency of the United States, which would have included at least an additional four Republican Senators, two in Georgia, one in Michigan, one in Arizona, are letting the Democrats get away with the greatest election hoax in history — a total con job," Trump insisted.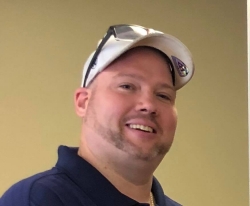 Latest posts by David Caron
(see all)