Yesterday, we reported that in a last-minute decision, Charlottesville removed the Lewis & Clark/Sacagawea statue with little community input in addition to the planned removal of the Robert E. Lee and Stonewall Jackson monuments.
Many were upset with the decision and the Virginia law appears to state that there has to be input from the community prior to the removal of such works of art.
It will now be in the hands of the court after a Republican House of Delegates candidate for the district that encompasses Charlottesville, Philip Hamilton, has announced his intentions to file a suit against the city.
In a Facebook post, Hamilton wrote that he "is filing a suit against the Charlottesville City Council regarding the emergency meeting that the council held on Saturday July 10th, 2021 to remove the Meriwether Lewis, William Clark, and Sacagawea Monument from a street near the United States District Courthouse."
"The public was not given ample notice of this emergency meeting since the 5 hour announcement requirement was waived. In addition, all public comment denied by the council," Hamilton explained.
Hamilton added that he "will be working on setting up a legal fund for this case" and gave his contact information.
In a subsequent comment on the post, Hamilton claimed to "have a real awesome attorney to help me in this case, whom has experience arguing before the Virginia Supreme Court in defense of historical preservation."
Hamilton vowed, "We will take it all the way up to the Supreme Court if we have to!"
When another commenter pointed out that the extra truck was potentially already in place prior to the meeting, Hamilton appeared to respond to the commenter that "We know that this was pre-planned and that the 'emergency meeting' was just a facade to their real intentions."
Hamilton offered, "They shouldn't have acted like little dictators by taking action without public input!"
In a post last night, Hamilton visited the area where the statue has been relocated and shared pictures of it's current resting place.
"Earlier tonight, I took two of my nieces to the 'Lewis and Clark Exploratory Park' where the upper section of the Meriwether Lewis, William Clark and Sacajawea Monument was relocated to yesterday," Hamilton said.
Hamilton said that he believed "they knew what they were doing was wrong" and suggested that "Something should be done to hold the city accountable for this illegal action."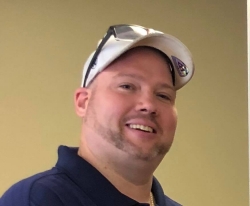 Latest posts by David Caron
(see all)