We reported yesterday that Texas Gov. Greg Abbott ordered the shut down of six points of entry along the southern border after illegal immigrants have been surging there recently.
Six hours later however, he was apparently forced to reverse course on the decision after the Biden administration declared that he could not do that.
Abbott has defended the decision and said that the Biden Admin was the one who initiated the request in the first place.
Fox 44 reported:
"The sheer negligence of the Biden Administration to do their job and secure the border is appalling. I have directed the Department of Public Safety and the Texas National Guard to surge personnel and vehicles to shut down six points of entry along the southern border to stop these caravans from overrunning our state," Gov. Abbott originally said in a statement.
"The border crisis is so dire that the U.S. Customs and Border Protection is requesting our help as their agents are overwhelmed by the chaos. Unlike President Biden, the State of Texas remains committed to securing our border and protecting Americans." the statement continued.
Abbott's office issued another statement later on Thursday after it says the Biden administration reversed the governor's decision to close the points of entry.
"Six hours after U.S. Customs and Border Protection requested help from Texas to close ports of entry and secure the border, the Biden Administration has now flip-flopped to a different strategy that abandons border security and instead makes it easier for people to cross illegally and for cartels to exploit the border," Abbott's office said. "The Biden Administration is in complete disarray and is handling the border crisis as badly as the evacuation from Afghanistan."
The new statement went on to say Abbott has directed Texas DPS and Texas National Guard to instead "maintain their presence at and around ports of entry to deter crossings."
 "The Department of Homeland Security is not seeking assistance from the State of Texas to shut down ports of entry. It would be a violation of federal law for the Texas National Guard to unilaterally do so," a Department of Homeland Security spokesperson said.
Abbott later shared an article touting a contract that was recently signed by a state agency to build more border wall on state land and to find "willing private landowners to facilitate construction."
"Today Texas agreed to a contract with companies to oversee construction of the border wall. They will quickly work to begin building the wall Tomorrow I sign a law that increases border security funding to $3 billion. We're trying to fix Biden's failure," Abbott declared in the tweet.
Today Texas agreed to a contract with companies to oversee construction of the border wall

They will quickly work to begin building the wall

Tomorrow I sign a law that increases border security funding to $3 billion

We're trying to fix Biden's failurehttps://t.co/Ug0GoxGoyj

— Greg Abbott (@GregAbbott_TX) September 17, 2021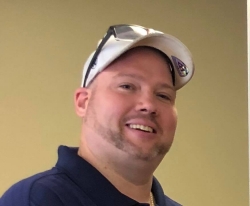 Latest posts by David Caron
(see all)