South Carolina Republican Governor Henry McMaster will announce tomorrow that South Carolina will reopen public beach accesses and retail stores next week that were closed under orders to slow the spread of Coronavirus.
The state announced Saturday afternoon an additional 165 cases of Coronavirus while totaling three deaths. Data now projects 217 total deaths through August 4. Earlier projections predicted over 1,000 deaths.
The projections, from the IHME, show that the peak in daily deaths for South Carolina happened on April 9 with 16 deaths in one day. The projections also show the peak in hospital resource use happened on April 15.
As of Friday, 67% of South Carolina patients confirmed to have had the Coronavirus are estimated to have recovered from the disease. Statistics from that day say 5,225 hospital beds are available and 6,183 are utilized, which is a 54.2% statewide hospital bed utilization rate.
As of Thursday, April 16, DHEC's Public Health Laboratory has conducted 11,527 tests for COVID-19. Of these tests, 1,400 were positive and 10,127 were negative. A total of 37,640 total tests by both DHEC's Public Health Laboratory and private labs have been conducted in the state.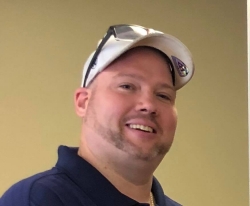 Latest posts by David Caron
(see all)