At an Air Force Academy graduation unlike any other in the school's storied history, cadets sat 8 feet apart, as Vice President Mike Pence told them a weary nation needs their leadership now more than ever.
Pence tweeted out that he was "honored" to give the speech at the "62nd United States Air Force Academy"
Honored to be at the Air Force Academy today for the 62nd graduation of the United States Air Force Academy.
Honored to be at the @AF_Academy today for the 62nd graduation of the United States Air Force Academy. https://t.co/QKuHDsr1az

— Mike Pence (@Mike_Pence) April 18, 2020
"America is being tested," Pence told the 967 graduating cadets. "While there are signs that we are making progress in slowing the spread, as we stand here today, more than 700,000 Americans have contracted the Coronavirus and tragically more than 37,000 of our countrymen have lost their lives."
"But as each of you has shown in your time here," he continued, "and as the American people always show in challenging times, when hardship comes, Americans come together. We rise to the challenge. The courage, compassion and generosity of the nation you will defend are shining through every day."
Pence did not attend the White House Press Briefing today due to his attendance at the graduation ceremony.
The Air Force Thunderbirds performed their traditional flyover of the ceremony but did not perform their usual aerobatics demonstration. After the Thunderbirds took flight over the academy, graduates jumped and cheered in place, but could not hug or shake hands. Some waved to classmates instead.
The class of 2020 was historic even before Coronavirus precautions drastically altered Saturday's ceremony. Eighty-six graduates will now go on to serve as officers in the new Space Force, the first class of academy graduates to do so.
"You, if deterrence fails, will fight and win the battle for space superiority," said Gen. John "Jay" Raymond, the Space Force General, during Saturday's remarks, "which is so vital to our nation, to our allies, and our joint coalition forces."
President Trump will deliver the commencement address at West Point's graduation ceremony on May 23rd, which is expected to also be modified to accommodate social distancing due to the Coronavirus pandemic.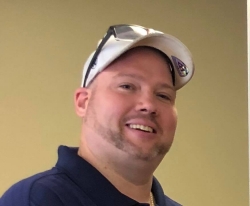 Latest posts by David Caron
(see all)