A video that was tweeted showing U.S. House Rep Lauren Boebert (R-CO) making a joke about U.S. House Rep Ilhan Omar (D-MN) is causing a great amount of Thanksgiving Day uproar.
Left-wing video creator PatriotTakes, who is partnered with MeidasTouch, asked in an initial tweet, "If Lauren Boebert, at a campaign event, suggested Ilhan Omar was a threat to blow up the US Capitol Building, is that enough for Boebert to be stripped of committee assignments?"
In a follow-up tweet, the group shared the clip of the joke and said, "Over the Thanksgiving break, Lauren Boebert said she was recently in a Capitol elevator with Ilhan Omar when a fretful Capitol police officer ran up. Lauren Boebert said: 'Well, she doesn't have a backpack. We should be fine.' Boebert then called Ilhan Omar, 'jihad squad.'"
Omar quote tweeted the video and declared, "Fact, this buffoon looks down when she sees me at the Capitol, this whole story is made up."
"Sad she thinks bigotry gets her clout. Anti-Muslim bigotry isn't funny & shouldn't be normalized. Congress can't be a place where hateful and dangerous Muslims tropes get no condemnation," Omar insisted.
In the video, Boebert referenced a recent House floor speech where she accused Omar of being a member of the "jihad squad" and referenced other reported scandals involving the sophomore House member.
Omar responded in a tweet by insulting Boebert's husband and U.S. House Rep Marjorie Taylor Greene (R-GA) came to Boebert's defense.
Fact, this buffoon looks down when she sees me at the Capitol, this whole story is made up. Sad she thinks bigotry gets her clout.

Anti-Muslim bigotry isn't funny & shouldn't be normalized. Congress can't be a place where hateful and dangerous Muslims tropes get no condemnation. https://t.co/S1APT7RbqW

— Ilhan Omar (@IlhanMN) November 26, 2021
Supporters of Omar came to her defense:
Rep Cori Bush (D-MO) quote tweeted the video and claimed, "Capitol Hill is a toxic work environment for Muslim members and staff when bigots routinely spew racist, Islamophobic vitriol unchecked and with no consequence. Congresswoman @IlhanMN, we love you, and we pray for your well-being and protection from this despicable abuse."
Capitol Hill is a toxic work environment for Muslim members and staff when bigots routinely spew racist, Islamophobic vitriol unchecked and with no consequence.

Congresswoman @IlhanMN, we love you, and we pray for your well-being and protection from this despicable abuse. https://t.co/tqNsODgoPQ

— Cori Bush (@CoriBush) November 25, 2021
Rep Ayanna Pressley (D-MA) insisted in a quote tweet that Boebert's remarks were, "Shameful, deeply offensive & dangerous. Yet another blatant display of Islamophobia targeting @IlhanMN These comments are personally hurtful, legitimately endanger her & the broader Muslim community. Rhetoric like this must be denounced & anyone spewing it held to account."
Shameful, deeply offensive & dangerous. Yet another blatant display of Islamophobia targeting @IlhanMN These comments are personally hurtful, legitimately endanger her & the broader Muslim community. Rhetoric like this must be denounced & anyone spewing it held to account. https://t.co/5m3Qykn2WM

— Ayanna Pressley (@AyannaPressley) November 26, 2021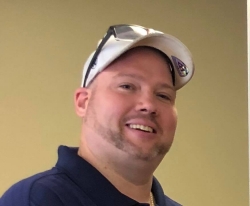 Latest posts by David Caron
(see all)