In a tweet earlier today, actor and comedian Jim Carrey urged his followers to vote for Joe Biden with a cartoon that said voting red was "blatant corruption" while voting blue was "corruption light."
He wrote, "There are 2 parties to choose from in our corporate idiocracy. Neither is perfect. But only one is guilty of criminal negligent homicide on a massive scale, and probably, treason. Red is dead. Do blue instead. #BidenHarris"
There are 2 parties to choose from in our corporate idiocracy. Neither is perfect. But only one is guilty of criminal negligent homicide on a massive scale, and probably, treason. Red is dead. Do blue instead. #BidenHarris pic.twitter.com/KfIUWcy0xa

— Jim Carrey (@JimCarrey) October 21, 2020
Carrey has been playing Biden on NBC's Saturday Night Live. Many of those who still watch that show have been critical of his acting on the comedy program.
A Daily Beast op-ed ran today with the headline, "Hey, SNL: Jim Carrey's Joe Biden Just Isn't Working" and the sub-headline that "The physical comedian's manic energy is all wrong for boring old Biden. Bring back Jason Sudeikis already!"
The writer, Marlow Stern complained that Biden is "the Hollywood face of the anti-science movement," which is why he said "it's rather strange that Saturday Night Live chose to cast him as the foil to Alec Baldwin's Donald Trump."
Marlow opines that Biden has repeatedly cast himself as the pro-science candidate who will "listen to the scientists" and that juxtaposition was on full display during Carrey's Oct. 3 SNL debut—a reenactment of the first presidential debate between Trump and Biden.
As Marlow puts it, Toward the end of the sketch, Carrey's Biden whipped out a remote control and paused Baldwin's Trump so that America could "bask in the Trumplessness."
He then turned to the camera to address viewers directly: "Look at me. Look directly into my eyeballs. You can trust me because I believe in science and karma. Now, just imagine if science and karma could somehow team up and send us all a message about how dangerous this virus can be."
"I'm not saying I want it to happen. Just imagine if it did. So this November, please get on the Biden train, which is literally a commuter train to Delaware, and we can all make America not actively on fire again," he concluded.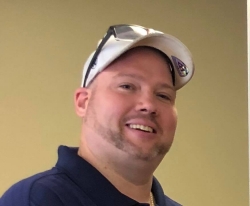 Latest posts by David Caron
(see all)