Snopes was quick to run cover for Joe Biden after he called a baseball player a negro.
In the speech, Biden was wishing Ambassador Donald Blinken happy birthday, and segued into telling a story about Paige, who first came to fame as pitcher in what were then called the Negro Leagues. Based on the context of his remarks, it appears that Biden was going to describe Paige as "the great pitcher in the Negro Leagues," but the words that came out of his mouth were "I've adopted the attitude of the great Negro — at the time, pitcher in the Negro Leagues — went on to become a great pitcher in the pros…"
We put this at the beginning of our article so that they don't try to "fact check" us. But it's up to you what conclusion you come to. Watch:
Biden tells a story about "the great negro at the time" Satchel Paige. pic.twitter.com/VcyfHQkCEm

— Townhall.com (@townhallcom) November 11, 2021
In our view, when things like this happen, the media can spin it either way. Biden may have meant something else, but the fact is that by his party's own rules, he made a major flub.
Meanwhile, when someone the left-wing media doesn't like, such as the judge in the Kyle Rittenhouse case, makes a joke that actually isn't mean in any nefarious way, they spin it in the complete other direction. The media can't seem to be trusted to simply report the news anymore, sadly.
Meanwhile, Politifact appears to have deleted a story offering clarity to the Satchel Paige story: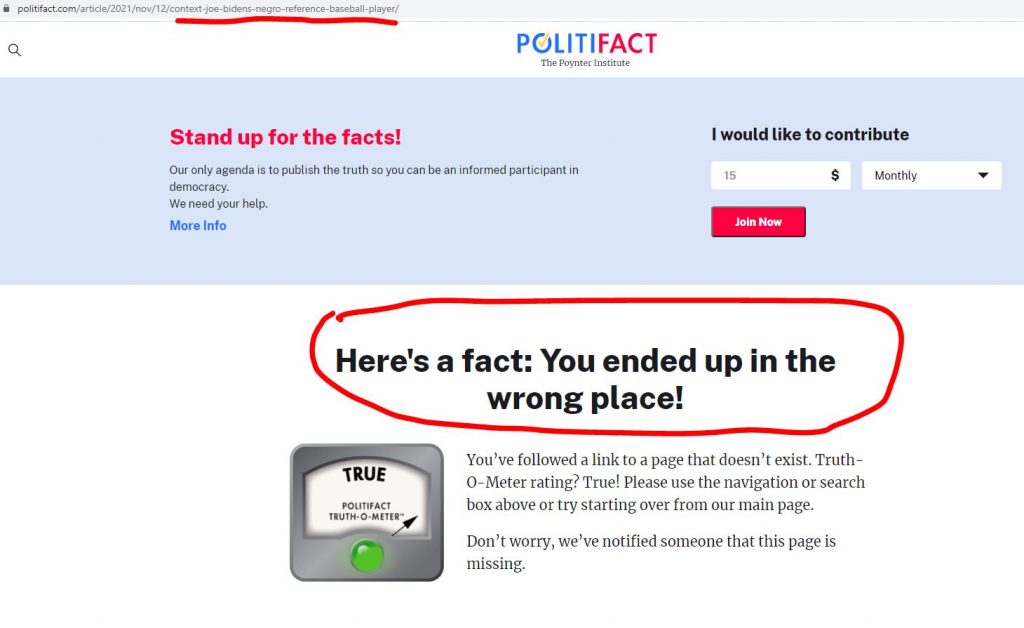 There may be another story or some sort of error with their website, but we couldn't find anything else. If we do we will quickly update our story with what we find.
Latest posts by Ian MacDonald
(see all)