Conservative country music star John Rich sent a harsh message to Joe Biden after his NATO defense declaration.
Breaking911 shared a clip of Biden attempting to look stern as he said, "America is fully prepared with our NATO allies to defend every single inch of NATO territory, every single inch."
"Mr. Putin, don't misunderstand what I'm saying. Every inch," Biden vowed while pointing his finger at the camera.
Biden then stumbled some as he continued while looking down, "And I have been in close touch with our allies."
"We're announcing new sanctions today as well, including new authorities to sanction anyone who provides political or economic support to Russia's fraudulent territorial claims and I've been in close touch with our NATO allies who are united in our resolve to take on his aggression," Biden insisted.
Rich told Biden in the quote tweet, "This is no time for dementia."
This is no time for dementia. https://t.co/2uMPpvcVPY

— John Rich🇺🇸 (@johnrich) October 1, 2022
Trump-supporter "Brick Suit" also responded to the Biden clip by calling it the "Least intimidating speech in political history."
Another Twitter user added that it, "would be nice if he would defend 'every single inch' of our own borders."
would be nice if he would defend "every single inch" of our own borders

— x2da4 (@x2da4) September 30, 2022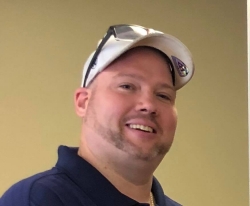 Latest posts by David Caron
(see all)