Trust among conservatives of the FBI right now is at an all-time low as many believe that they have been weaponized by the left and especially now in the Biden administration.
It has been reported that the agency is "providing assistance" with the tragedy that occurred yesterday in Waukesha, Wisconsin, only two days after Kyle Rittenhouse was found not guilty in Kenosha, Wisconsin.
Many believe that it is coincidental for the two situations to not be related somehow, especially considering the driver of the SUV that killed five at a Christmas parade was black and it is believed that the victims are white.
Juanita Broaddrick lamented the report in a viral tweet where she declared, "Oh great…. FBI called in for Waukesha case. Now we will never find out the truth."
Oh great…. FBI called in for Waukesha case. Now we will never find out the truth.

— Juanita Broaddrick (@atensnut) November 22, 2021
According to the report, Leonard Peace, Public Affairs Officer at the FBI Milwaukee Division said, "Our local law enforcement partners are the primary responding entities in Waukesha, Wisconsin. The FBI is providing assistance."
Prior to the report, Waukesha Police Chief Daniel Thompson told reporters that several people were killed and a total of over 20, including children, were taken to the hospital.
Thompson also told reporters that it is unclear whether the attack is related to terrorism.
In a recent statement, the president said that we don't yet have "the facts and details," but offered his condolences.
Previously, we reported:
Darrell Brooks is reported as being the suspect in custody as of last night. A red SUV plowed through what appears to be a marching band, a dance team, and a group called the Milwaukee Dancing Grannies, injuring over 40 individuals and at this time it is being reported that there are 5 dead.
Using information from prior arrest records Twitter user M shared how she found his social media. "For clarity, this is how I figured out what is Darrell Brooks alleged Twitter. Address in his documents search on google. Google search of that e-mail address connected brought up his Twitter. Twitter linked his SoundCloud &YouTube. All unconfirmed but pretty confident". Along with images connecting the dots.
Police have yet to confirm the identity of the person in custody but with the information that was given to the public, it seems that the internet may have put it all together. The police are set to give another press conference at 1 PM CST with updates on their fluid investigation.
The person in custody who we believe is Darrell Brooks has not yet been charged. Some are reporting that he was fleeing police from another incident involving a knife fight. Brooks has a long arrest record and it is unclear at this time what the motive was to drive through the parade.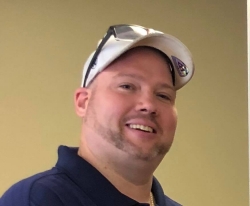 Latest posts by David Caron
(see all)