A Waukesha County judge told the accused Christmas parade killer in court yesterday that she had reached her limit with his "word games."
As Darrell Brooks attempted to continue to argue with Judge Jennifer Dorow, she told him, "I'm done," and put the court in recess.
The issue at hand is that Brooks wants to fire his public defense team and represent himself at the trial. Dorow gave him a deadline this morning to file the proper paperwork and it appears that he has done so.
Therefore, Dorow will have to decide today whether to grant the request or not. Dorow made it clear to Brooks what he would be going up against if he decided to do so, but he appeared unfazed.
A letter was filed by Brooks' mother ahead of today's hearing about "concerns" she has with "the defendant and his representation."
Dawn Woods, the mother, told Dorow in the letter that she speaks with Brooks on a daily basis and that she believes "by our conversations I could tell that he was becoming unstable."
"I tried to reason with him on Monday when I spoke to him, he told me he doesn't feel comfortable with his attorney's way of how they want to present his case," Woods explained in the letter.
Woods concluded by telling Dorow that "He needs help. I'm asking the court to recognize his unstable mental state and rule in his best interest" and adding that Brooks will "not be happy" that she wrote the letter.
Brooks told Dorow that he is a "sovereign citizen" and that he doesn't understand how he can be charged by the state.
"I am not going to get into a debate about whether you're a sovereign citizen or not, or even whether you have any understanding of how the state is a plaintiff in this case," Dorow told Brooks yesterday.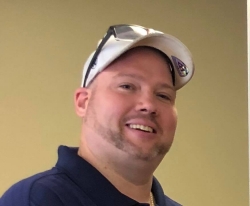 Latest posts by David Caron
(see all)