Not long after a scandal Where Julián's brother Joaquin Castro was lambasted for Tweeting a list of President Trump's donors, (something Julián condoned wholeheartedly) presidential candidate and former Obama admin official Julián Castro has taken a potshot at President Trump. His insults and accusations, in a video to air on 'Fox & Friends' in an attempt to troll the president, are nothing original at all. It is a video, that he also has posted on his Twitter account.
He claims that President Trump calls immigrants rapists, which is not exactly true. He is referring to President Trump stating that illegal immigration allows for rapists, criminals and other bad actors along with good people to come unchecked across the southern US border with weak immigration policies. Of course, as the left usually does, Castro leaves out that nifty illegal word as well, furthering the confusion of his words.
SEE TWEET FROM @JulianCastro WITH VIDEO BELOW:
But this is a lie the left seems to get away with time and time again. He also implied President Trump is somehow responsible for the horrible El Paso, TX shootings, (while conveniently leaving out the Dayton, OH shooter who was a fan of Elizabeth Warren, gun control and socialism). This is downright untrue, and should not be acceptable for any verified Twitter user, much less presidential candidate, to get away with saying about the President of the United States.
Of course, big tech seems to have a different set of rules when it comes to what the left can say and what conservatives can say on Facebook, Twitter, and other platforms.
This all comes in the wake of 2 sets of Democratic presidential debates being in the rearview mirror, and many in the crowded field of candidates struggling to gain double-digit numbers in the polls. The weakest performers are looking for hail mary attempts at catapulting their way towards the top or at least staying on the debate stage by shamelessly capitalizing on half-truths and gun control agendas on the backs of recent tragedies.
Real Clear Politics has Castro at less than 1% for the Democratic presidential nomination, so while it's unlikely that he will even remain in the debates, (you are required to poll at 2% or higher) he is, unfortunately succeeding at stirring up more divisions in our nation in the wake of tragic shootings and other tough issues Americans are dealing with.
SEE IMAGE BELOW FROM REAL CLEAR POLITICS: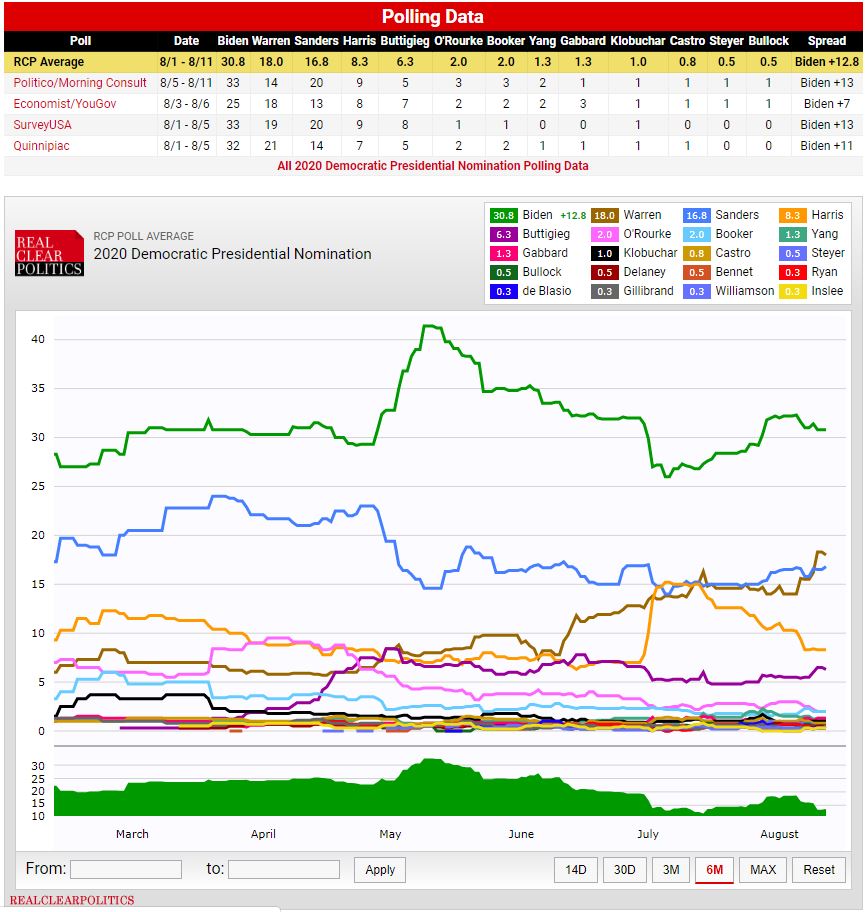 Latest posts by Ian MacDonald
(see all)