Joe Biden's Democratic Presidential running mate Kamala Harris shared a video earlier about her arrival in Miami, Florida where she held a roundtable discussion "on the issues facing the African American community."
The video shows her debarking from what the Trump campaign called a "fossil fuel guzzling private plane" and getting into "a fossil fuel guzzling SUV." Harris captioned it, "wheels down in Miami."
From a fossil fuel guzzling private plane to a fossil fuel guzzling SUV.

Democrats don't think the rules they want for everybody else should apply to them! https://t.co/phwDmnvRxl

— Trump War Room – Text TRUMP to 88022 (@TrumpWarRoom) September 10, 2020
A response to Harris' video from Trump supporter Melissa Tate said, "What about climate change? Oh year that's right. That's for us plebs." Another conservative account, "Rill-Liberty," pointed out that the video appears like "a show and a production."
Cinematic observation: notice the camera angle. Makes Kamala appear larger than life. She's only 5'2"

We're watching a show and a production.

— Rill-Liberty (@ThAlMeArCrEq) September 10, 2020
We reported yesterday on how Barack Obama recently did a one on one interview with Harris and today, Obama tweeted out that "the fires across the West Coast are just the latest examples of the very real ways our changing climate is changing our communities. Protecting our planet is on the ballot."
He shared pictures of San Francisco and how it has been affected by the fires and said that people needed to "vote like your life depends on it—because it does."
The fires across the West Coast are just the latest examples of the very real ways our changing climate is changing our communities. Protecting our planet is on the ballot. Vote like your life depends on it—because it does. pic.twitter.com/gKGegXWxQu

— Barack Obama (@BarackObama) September 10, 2020
Many articles have been written regarding Harris and her views on climate change, including a recent Time magazine article titled, "How Kamala Harris Became a Favorite of Climate Activists."
From Time Magazine:
In August, before receiving the nod from Biden, she released an updated version of her Climate Equity Act. By she was nominated in early August, climate activists were ready to applaud her candidacy.
"Harris showed her responsiveness to activist and movement pressure to make climate a top priority, and demonstrated her willingness to be held accountable," said Sunrise Movement Executive Director Varshini Prakash in a statement.
With her on the ticket, climate activists say the shape of future climate policy is taking shape: her focus on environmental equity pairs well with Biden's experience shepherding funding for clean energy. Biden oversaw the distribution of $90 billion in stimulus funding that was directed to clean energy amid the Great Recession.
"Biden has always understood the importance of clean energy investments," says Raad. "With Kamla, he's saying we're going to have bold climate policy with a standards, investment and justice approach."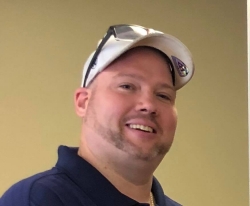 Latest posts by David Caron
(see all)