Democratic Vice Presidential nominee Kamala Harris (Ca.) told Norah O'Donnell on CBS's "60 Minutes" that she believes President Trump is racist and pointed to his interest in the "birther" conspiracy theories about President Obama's birthplace as evidence.
O'Donnell began the discussion by pointing out that "On the campaign trail, President Trump has attacked you frequently, he's called you a monster, he said you're nasty, and he said that it would be an insult to the country if you became the first female president."
Norah asked, "Do you see this as just the rough and tumble of politics or do you view those attacks against you as racist?"
"Well, this is not the first time in my life, I've been called names, and it was predictable sadly," Harris responded to which O'Donnell asked, "Do you think the president is racist?"
"Yes, I do," Harris responded, with a chuckle. "Yeah. I do." Harris then claimed, "You can look at a pattern that goes back to him questioning the identity of the first Black president of the United States."
"You can look at Charlottesville, when there were peaceful protesters, And on the other side, neo-Nazis and he talks about fine people on either side. Calling Mexicans rapists and criminals. His first order of business was to institute a Muslim ban. It all speaks for itself," Harris insisted.
"60 Minutes" narration added that "President has said he denounces racism and white supremacy" for context.
Antifa, however, were present in Charlottesville, not just "peaceful protesters." Harris' running mate and Presidential nominee Joe Biden condemned Antifa in September.
Does Kamala Harris think President Trump is racist?

"Yes, I do. You can look at a pattern that goes back to him questioning the identity of the first Black president of the United States." https://t.co/EF7jsaRXM5 pic.twitter.com/w3n8zUbU6D

— 60 Minutes (@60Minutes) October 26, 2020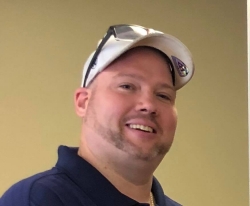 Latest posts by David Caron
(see all)