Fox News' Peter Doocy today pressed White House press secretary Karine Jean-Pierre about vaccine mandates for non-Americans who are traveling into the country.
Doocy pointed out that many are walking over the southern border who are unvaccinated, which caused Jean-Pierre to deny that is occurring.
According to the CDC, non-citizens and non-U.S. immigrants "must show proof of being fully vaccinated with the primary series of an accepted COVID-19 vaccine" before boarding a flight to the United States.
During today's White House press briefing, Doocy wondered, "Somebody unvaccinated comes over on a plane. You say that's not OK. Somebody walks into Texas or Arizona unvaccinated, they're allowed to stay. Why?"
"But that's not how it works, we actually…" Jean-Pierre insisted, as Doocy retorted, "I know that's not what you guys want to happen, but that is what is happening."
Jean-Pierre continued, chuckling, "It's not like somebody walks over, that's not how…"
"That's exactly what's happening. Thousands of people are walking in a day, some of them turn themselves over, some of them are caught, tens of thousands a week are not. That is what's happening," Doocy shot back.
Jean-Pierre then listed things that the administration is doing in an attempt to quell the number of illegal immigrants that are crossing the border.
Doocy's colleague Bill Melugin, who covers the southern border quote tweeted a Greg Price clip of the exchange and said that he is "100% correct."
"That is exactly what is happening at the border. Not sure how many more videos we have to show, multiple times a day, to get this point across. And that doesn't even account for the more than half a million gotaways who slipped thru since 10/1," Melugin continued.
Melugin then added a quote tweet of a July 13 video that he shared and noted, "This happens EVERY single day, multiple times a day in Eagle Pass alone. One tiny spot on the border. Yes, they do just walk across by the hundreds. A large majority of them in Del Rio sector are then released. It is that simple."
Cade and point 👇🏻
This happens EVERY single day, multiple times a day in Eagle Pass alone. One tiny spot on the border. Yes, they do just walk across by the hundreds. A large majority of them in Del Rio sector are then released. It is that simple.https://t.co/EgLbmVN1el

— Bill Melugin (@BillFOXLA) August 29, 2022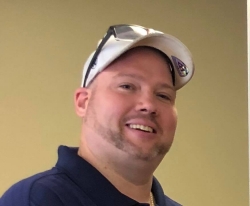 Latest posts by David Caron
(see all)