House Minority Leader Kevin McCarthy appeared on Fox News earlier today and spoke with Maria Bartiromo to offer his thoughts following the mass shootings in El Paso, Texas, and Dayton, Ohio that occurred within 24 hours of each other. He started the interview off with a passionate statement saying that the "nation mourns."
The nation mourns for just a very sad day. No one in this country should fear going shopping or out on a Saturday night. These monsters that did this based upon evil, we need to get the facts, but we need to make sure we do not allow this to happen ever again. Whatever their intentions were, we know it was based on hate and evil. The planning of what took place, the actions of where they went. I know today is a day that millions of Americans will go out to their place of worship that we will lift up those families that are mourning, we will lift up their losses. We will thank the first responders, when we look at their ability to respond, in Dayton, Ohio in less than one minute, they were there with an individual who had on his own armor on and others. I think it is responsible that we allow those law enforcement to do their job, but when the job is done, we should come together as one and find areas in ways that we can make sure that this does not happen again.
SEE TWEET BELOW:
Later on in the interview, host Maria Bartiromo talked about the lieutenant governor of Texas (Dan Patrick) and how he had an impassioned conversation talking about video games and social media and how it could have triggered the shooter in El Paso. McCarthy agreed but felt "we need to get all the facts."
I think we should. You want to see from these individuals, what they wrote and others. This may be a place that we could find this ahead of time. There may be a place of what's being written could be changed, could be an indication that an individual needs help and others that we can stop. But the idea that these video games that dehumanize individuals, to have a game of shooting individuals and others, I've always felt that is a problem for future generations and others. We've watched from studies shown before of what it does to individuals. When you look at these photos of how it took place, you can see the actions within video games and others, but what I'd like to do is make sure just get all the facts. Were there indications? And there's times before that we found this and there's times before we've proven that we can come together just within the last Congress.
SEE TWEET WITH VIDEO BELOW:
There have been cases pointed out by some in the past, most recently the Christchurch shooting in New Zealand, where the shooter live-streamed the shooting from a first-person vantage point and a video game involving that footage was later found and removed from Facebook.
All this being said, it's great to have strong leaders like McCarthy who wait for all the facts and don't jump to particular political talking points for back pats from the left and the media. It's apparent that he did not get swept up in the blame game and gun control rhetoric like many others on both sides today, which is great because today is not the day for that. It's refreshing leadership that I think the GOP base desperately needs more of.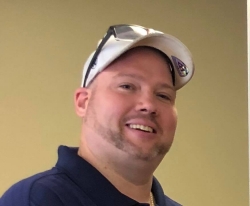 Latest posts by David Caron
(see all)