As we reported earlier, podcaster Joe Rogan recently called former Trump press secretary Kayleigh McEnany the "Michael Jordan" of press secretaries.
It would appear that current press secretary Karine Jean-Pierre certainly falls short of that often enough with many of her responses, especially when pressed by Fox News' Peter Doocy.
Jean-Pierre recently stepped into what Fox News described as a hornet's nest of mockery on Twitter after stating that the U.S. has added "ten thousand million jobs" since her boss, Joe Biden, took office.
After the U.S. economy added only 315,000 new jobs in August, making it the "lowest monthly gain since April 2021," Jean-Pierre attempted to run damage control on the situation.
"As you know, the good news is, in August the economy created 315,000 jobs, which is important," Jean-Pierre claimed.
Jean-Pierre then suggested that "We have created nearly ten thousand million jobs since President Biden took office, which is the fastest job growth in history." 
In a tweet, tech researcher and businessman Dr. Eli David explained how impossible that number was to have been reached as he declared, "That's 10 billion, more than the entire population of the world. Amazing job!"
Former GOP Congressional candidate Lavern Spicer quipped, "Oh well, at least we know she passed kindergarten math."
Karine Jean-Pierre: "We have created nearly ten thousand million jobs."

Oh well, at least we know she passed kindergarten math🤷🏾‍♀️

— Lavern Spicer 🇺🇸 (@lavern_spicer) September 4, 2022
The official White House transcript attempted to correct the flub, as it reads:
"So, as you know, the good news is: In August, the economy created 315,000 jobs, which is important.  We have created nearly 10 thousand — million jobs since President Biden took office, which is the fastest job growth in history."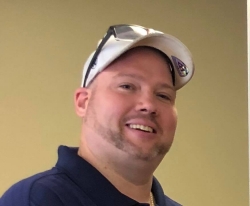 Latest posts by David Caron
(see all)