U.S. House Rep Lauren Boebert (R-CO) took to Twitter today to back actor Jon Voight's call to impeach Joe Biden.
Boebert also said that she was not surprised that House Speaker Nancy Pelosi hasn't brought the articles she filed nearly a year ago to the floor.
In a quote tweet of TPUSA's Benny Johnson, who shared the message from Voight, Boebert explained, "I filed articles of impeachment nearly a year ago."
"Unsurprisingly, Pelosi hasn't brought these articles up. Biden has got to go!" Boebert declared.
In September 2021, Boebert filed articles of impeachment against both Biden and Kamala Harris for giving aid and comfort to America's enemies and colluding with the Taliban.
As we previously reported, Voight had a strong message for Biden while asking for unity simultaneously.
"My dear friends, we are all saddened by so much turmoil that has been brought upon this life we live. Can this darkness be lifted? Can we all share joy once again and see eye to eye? We have a troubled nation with much horror from these criminals that are ruining lives. We must stop this now. We must bring back our nation's safety."
Voight continued to mention police departments directly and what they're responsible for in his view:
"Our police force must act on righteousness and guard our neighborhoods, our businesses, our children, our elderly, our veterans, and our handicapped. We must protect this nation and bring back safety. We are all feeling very unsafe. We are all angry."
The Trump-supporting actor pivoted to throw the blame on Joe Biden:
"And let's remember why. It starts with the seat of the president of the United States. He has wronged this nation's glory. He has taken down our morals. Our true gift of the land of the free. He must be impeached."
"We can not wait another second having him dictate our path. Let us work together, get him out, and make this country what she stands for, greatness. The land of opportunity. The land of the greatest soil our forefathers fought for."
"Don't let this President Biden tear down every inch that was sacrificed with blood, sweat, and tears for his dictation of lies. I urge all to see truths. I urge all to make a difference for our children's future. Our future. Because my fellow Americans, this land is being broken down. But we as a nation of God's truths, shall build her up once again, and bring her to her feet with glory. God bless America. Much love to you."
I filed articles of impeachment nearly a year ago.

Unsurprisingly, Pelosi hasn't brought these articles up.

Biden has got to go! https://t.co/Z7D6FigYwT

— Lauren Boebert (@laurenboebert) July 1, 2022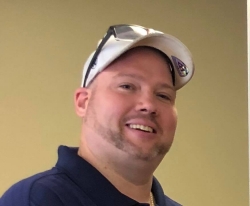 Latest posts by David Caron
(see all)