On the latest episode of HBO's "The Shop," NBA superstar LeBron James somewhat contradicted a statement that he had made in a previous episode.
James was asked if he was ever concerned about potentially missing a shot during a big game at this point in his career.
In response, James said "no, maybe when I was younger because I cared what everybody else thought. I don't give a f*ck now."
James continued, "It probably changed to me about 25. I spent like seven years and then I went to Miami that first year and everything was about still what everyone else thought."
"And then I just literally was like, 'I don't give a f*ck what nobody think. I'm him.' If I don't take it, who's going to take it? You know, it's not even taking a shot. It could be making the right play," James insisted.
I don't give a f*ck what nobody think. I'm him." ? @KingJames didn't mince words when describing his mindset. New episode of #TheShop available now. ?

?: https://t.co/RuzMhFL3zF pic.twitter.com/S2E8FDE99L

— UNINTERRUPTED (@uninterrupted) July 19, 2022
Previously, however, James claimed that Boston Celtics fans had the power to potentially win a game for their team and that they are "racist as f*ck."
Co-host Maverick Carter began in a clip from that episode by pointing out that "In basketball, there are fans when you play away that can literally take the game from you, and the fans is not going to let us win this one tonight… what place?"
"I mean Boston," James responded while adjusting what appeared to be a bracelet. Another co-host pressed, "Why?"
James then suggested it was "Because they racist as f*ck, that's why."
"They will say anything, and it's fine. I mean, f*ck, it's my wife, she's been dealing with them her whole life. I don't mind it. I hear it, if I hear someone close by, I check them real quick. I move onto the game, whatever the f*ck. They going to say whatever the f*ck they want to say," James asserted.
James, however, didn't provide any specific examples of racism, rather, he just pointed out that "They might throw something. I got a beer thrown on me leaving a game."
After Carter mentioned certain t-shirts that some of the fans might wear, James agreed and said, "It's like a 'F*ck LBJ' t-shirt. I believe they probably sold it at the f*cking team shop,"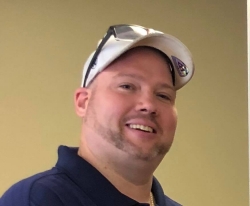 Latest posts by David Caron
(see all)