On Friday, it was reported locally that a standoff ensued at a Deleware veterans cemetery after a man shot an elderly couple. News like this would typically be flashing across every broadcast across the nation, but they have been silent.
According to police, Sheldon Francis, 29, of Middletown, Delaware, shot the 85-year-old woman and 86-year-old man while they were visiting the Delaware Veterans Memorial Cemetery just before 10:15 a.m. Friday. The woman died at the scene, while the man died the next day at a hospital.
When police responded to the cemetery, they exchanged fire with the gunman before he ran into the woods. Police said Francis was found dead in the wooded area. Police say the suspect suffered an apparent gunshot wound but it is not clear if it was self-inflicted or from the gunfight with police.
The picture that has been used for Francis is a 2009 mugshot that was provided, so it is clear that he has a criminal history prior to this incident.
Delaware's Democratic Gov. John Carney called the shooting "heartbreaking." He offered his sympathy by saying, "Really sad news to think of that kind of an event in what is really sacred ground, the final resting place of the men and women who served our country."
Two days before this happened, NBA star LeBron James had said on Twitter that, "We're literally hunted EVERYDAY/EVERYTIME we step foot outside the comfort of our homes!" He shared a picture of Ahmaud Arbery. It is unknown if the gunman may have inspired by this rhetoric.
We're literally hunted EVERYDAY/EVERYTIME we step foot outside the comfort of our homes! Can't even go for a damn jog man! Like WTF man are you kidding me?!?!?!?!?!? No man fr ARE YOU KIDDING ME!!!!! I'm sorry Ahmaud(Rest In Paradise) and my prayers and blessings sent to the….. pic.twitter.com/r1PNxs8Vgn

— LeBron James (@KingJames) May 6, 2020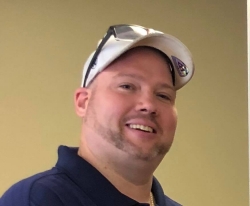 Latest posts by David Caron
(see all)