In Albuquerque, New Mexico a vandal was shot at Tiguex Park as he was part of a mob trying to remove a Juan de Oñate statue, "La Jornada," outside the Albuquerque Museum.
Police say they arrested Stephen Ray Baca, 31, in connection to the shooting and charged him with aggravated battery. The injured vandal was transported to the hospital for treatment and is listed in critical but stable condition.
Chain is up and around @KOB4 pic.twitter.com/LfXUZHGoNl

— Megan Abundis (@meganrabundis) June 16, 2020
New Mexico civil guard members and one other man being arrested. All weapons being taken from them. Still no ambulance here. Police are here. Unclear who fired shots pic.twitter.com/HBe5SVjs2r

— Megan Abundis (@meganrabundis) June 16, 2020
Baca was attempting to get to the statue to halt the attempted removal and a member of the mob was blocking his path. Baca then pushed that man down and chaos ensued, which led to him being attacked and he shot the vandal in apparent self-defense.
June 16, 2020
The Democrat Mayor and Democrat Governor released statements indicating that they believed Baca to be at fault in the incident.
Mayor Tim Keller sent the following statement after Monday's shooting:
"The shooting tonight was a tragic, outrageous and unacceptable act of violence and it has no place in our city. Our diverse community will not be deterred by acts meant to divide or silence us. Our hearts go out the victim, his family and witnesses whose lives were needlessly threatened tonight. This sculpture has now become an urgent matter of public safety. In order to contain the public safety risk, the City will be removing the statue until the appropriate civic institutions can determine next steps."
The governor's office also sent a statement about the incident:
"Although we are still learning more about the situation, I am horrified and disgusted beyond words by the reports of violence at a protest Monday night in Albuquerque. The heavily armed individuals who flaunted themselves at the protest, calling themselves a "civil guard," were there for one reason: To menace protesters, to present an unsanctioned show of unregulated force. To menace the people of New Mexico with weaponry – with an implicit threat of violence – is on its face unacceptable; that violence did indeed occur is unspeakable.
"I am monitoring the situation; my administration is in touch with local officials; the individual who was injured is in my prayers, and I am thinking of their family and friends.
"Let me clear: There is absolutely no space in New Mexico for any violent would-be 'militia' seeking to terrorize New Mexicans; and there is no space for violence of any kind on our streets and in our communities, or for any sort of escalation of reckless, violent rhetoric, no matter who strikes first. The instigators this evening will be rooted out, they will be investigated, and they will be held accountable to the fullest extent of the law."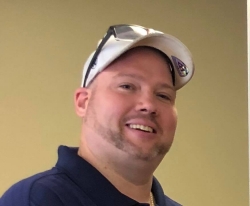 Latest posts by David Caron
(see all)